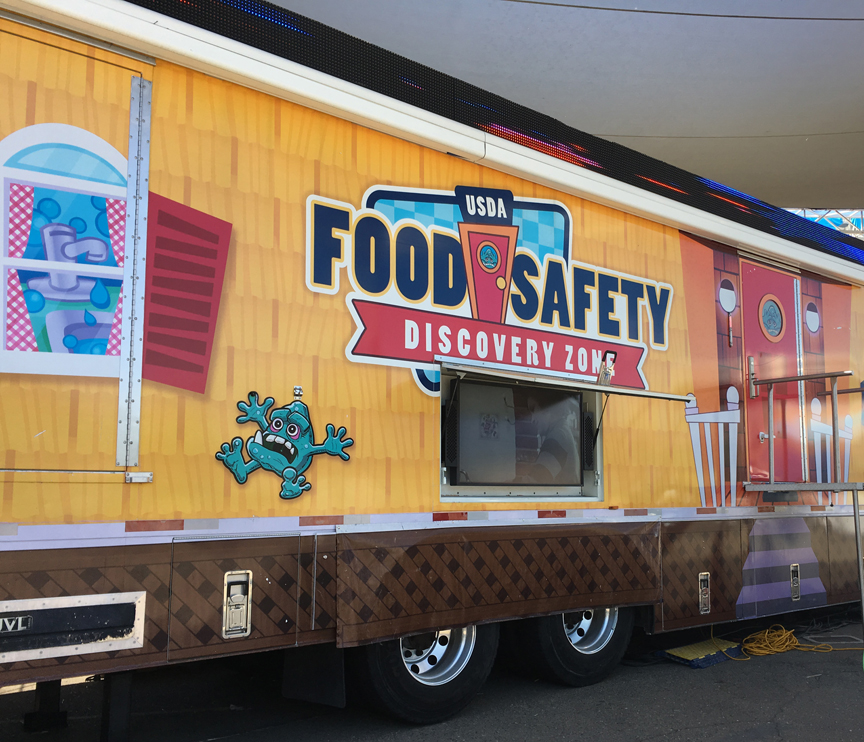 The United States Department of Agriculture (USDA) and its Food Safety and Inspection Service (FSIS) sent their "Food Safety Discovery Zone" mobile interactive exhibit to the California State Fair this year, marking the first time the decked-out vehicle has made the trip to the Golden State.
California Department of Food and Agriculture (CDFA) Secretary Karen Ross visited the exhibit this morning along with State Fair CEO Rick Pickering, California Poultry Federation President Bill Mattos, and California Grain and Feed Association CEO Chris Zanobini, all of whom worked behind the scenes with USDA and Cal Expo to include the truck in this year's State Fair.
The $10,000 exhibit space fee for the USDA mobile unit to be located at the State Fair was paid for by a community education grant funded by the Sierra Sacramento Valley Medical Society Alliance.
The vehicle is conveniently located near the fair's main food promenade. It's part game center, part classroom, part kitchen, and all cool. FSIS Senior Public Affairs Specialist Luis Delgadillo and intern Briana Burke are on-hand to lead their guests through the exhibit, which includes interactive games and activities to teach folks how to safely prepare and store food, what can cause foodborne illness, and how to reduce the risks.
The tour sparked a sidebar discussion about the possibility of having a mobile food safety exhibit like this one dedicated to California's full calendar of fairs and other agricultural/food festivals… stay tuned!