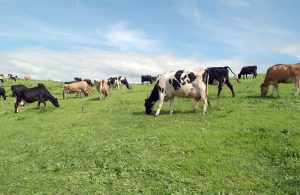 Note – The Bottom Line is the student newspaper at UC Santa Barbara.
By Tanner Walker
Carbon ranching is coming to Santa Barbara County, but farmers aren't growing carbon — they're putting it back into the ground. With the help of compost and cattle, native grasses can sequester organic carbon, enriching the soil and removing greenhouse gases from the atmosphere.
For example, a single acre of grazed grasslands can remove the equivalent of 3.9 tons of CO2 each year, according to a compost application plan outlined by the California Department of Food and Agriculture.
According to the Community Energy Council of Santa Barbara, 270,000 acres in the county are suitable for compost application. Even if only 15 percent of the available land received a single dusting of compost, their analysis "shows that the increased sequestration could offset all of the greenhouse gas emissions from the county's agricultural sector."
The 8,000 -acre Chamberlin Ranch in Los Olivos is currently home to carbon ranching test sites from 12 partners including UC Santa Barbara, the Santa Barbara Air Pollution Control District, and the Cachuma Resource Conservation District.
For the farm managers, Russell Chamberlin and his cousin Mary Heyden, adding a top layer of compost enriches the soil, provides more food for their cattle, and helps their business adapt to a changing climate.
"Weather systems have changed dramatically, more and more every year," said Heyden in an interview with the Santa Barbara Independent. "In this area, with compost, the land stays cooler and wetter," growing more robust grasses.
Chamberlin worked and went to school in northern California, where carbon ranching via compost has been well tested. "Work in Marin on compost on rangeland had generated a lot of excitement and attention … I got interested in making the ranch a learning site for these practices," he said in an interview with the Santa Barbara Independent.
The Marin Carbon Project was started by a ranch owner whose pastures turned into a weedy mess after his cattle stopped grazing. After successful results from returning cattle herds to the farm, the owners began investigating other ways to enrich the soil and bring back native grasses, including carbon ranching via compost coverage. In a test area covered with compost, they found 45-50 percent more carbon was sequestered compared to the control area.
Adding compost greatly increases carbon sequestration, but it has other benefits that farmers are more concerned with. Soil in compost-covered areas stays cooler and holds more water than untreated areas, extending the grass growing season, reducing the need for irrigation, and providing more food for cattle.
While herds of cattle do benefit from the increased forage that compost provides, their presence is an essential part of increasing carbon sequestration.
Full article: "Carbon Farming coming to Central Coast" from The Bottom Line