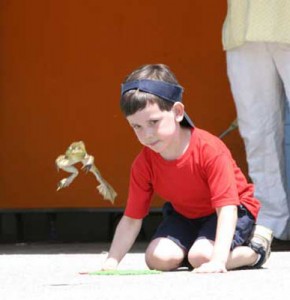 Each of California's 78 fairs is a reflection of the local community, and the famed Calaveras County Fair and Jumping Frog Jubilee is no exception. It's coming up May 17-20, and the folks here in Sacramento are getting a head start on the festivities with the annual Capitol Frog Jump on May 2.
Every year, elected officials and their staff members welcome the celebrated jumping frogs of Calaveras County for a spirited competition prior to the Jubilee in Angels Camp. The event begins at noon on the East Lawn of the Capitol. Winners will participate in the Grand Finals at the 85th annual Calaveras County Fair and Jumping Frog Jubilee.
The Bozo Frog Team has won the event for the past five years, and they are preparing to defend their title. The team is a group of friends who have been competing together for some 40 years. The Frog Wranglers, a volunteer group dedicated to preserving the event's history and the community pride reflected in the Jumping Frog Jubilee, work with the office of State Senator Ted Gaines to coordinate the Capitol Frog Jump. Senator Gaines represents Calaveras County. Trophies are presented in three categories – longest jump, shortest jump and media winner.
Come on out on May 2 at the Capitol, and don't miss the Jubilee May 17-20. The frog jump is just one of the many attractions that make each our California fairs a local treasure.  Go to www.cafairs.com for a schedule of upcoming fairs.