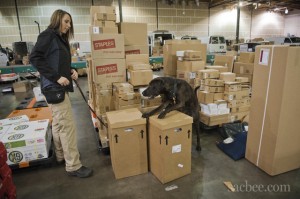 http://www.sfgate.com/cgi-bin/article.cgi?f=/c/a/2012/04/18/DD5N1N8AHQ.DTL
Laramie Treviño
Wednesday, April 18, 2012
Say your grandmother in Florida wants to share her citrus harvest and mails you a box of juicy fruit in a package with no hint of its contents. Or relatives in San Antonio pack up holiday season pecans from their tree for overland delivery to the Golden State.
Good luck getting those backyard crops past the sniffing sentinels of the conveyor belt. With a dainty prod of a paw or a vigorous scratch punctuated with a growl and a pounce, these canine inspectors are no slouches on their beat. "They all have different styles," says Tino Menchaca, handler for Hawkeye, Santa Clara County's tan Labrador/hound mix who, like his six canine colleagues, makes the rounds of shipping-distribution centers in Northern California.
On the clock at United Parcel Service, Federal Express, OnTrac and San Jose's main post office, seven Bay Area dog/handler teams of the California Department of Food and Agriculture enhance inspection and surveillance efforts involving packages containing fruit and plant materials that enter the state through parcel delivery sites. While agricultural products may look healthy, they could carry eggs, maggots, insects, diseases, invasive weeds, and other threats to state plants and wildlife. The CDFA estimates that each year insects and disease take a $3 billion bite out of the state's $37.5 billion agriculture industry.
Unmarked boxes' fate
The unmarked parcel is at very high risk of being intercepted to ensure harmful stowaways don't go on to wreak agricultural havoc (see "Shipping tips"). Rejected packages are destroyed in many instances and can be returned at the shipper's expense.
And if this season reflects last year's activity, a peak period is upon us. California teams found the highest number of unmarked parcels containing agricultural products during March 2011, when statewide 300 were found.
Alameda, Marin, Sacramento, San Joaquin, Contra Costa and Santa Clara are the Northern California counties with canine/handler duos that along with six Southern California canine inspection teams, alerted on 51,000 parcels from July 1, 2010, to June 30, 2011, according to the program's annual report.
"Citrus is very popular, especially this time of year, " says Michelle Thom, deputy agricultural commissioner for Santa Clara County. However, soil, flowers, mushrooms, plant cuttings and insects are common finds. California's parcel inspection teams are assisted by a biologist who follows up on packages tapped by dogs. The CDFA prefers no backyard-grown produce is sent. And when shipping commercially grown plant items, check California's quarantines (see "Shipping tips").
Started in 2006, the dog teams are a cooperative effort between the U.S. Department of Agriculture, CDFA and the County Agricultural Commissioners and Sealers Association. There is no breeding program for inspection dogs; most are rescues screened for high-food drive, intelligence, sociability, low-anxiety levels, physical agility, and other favorable traits. Dog/handler teams complete up to three months of training at the USDA National Detector Dog Training Center in Newnan, Ga. Dogs must be 1 to 3 years old when they start, retire at 9, and are often adopted by their handlers. Estimated value of a working dog is $60,000.
While dogs are trained to detect five specific odors – citrus, apple, mango, guava and stone fruit – they swiftly build their range to include cuttings, flowers, bulbs, seeds and bugs. "They learn rapidly that insects are worth a cookie (dog treat)," says Cecilie Siegel, who along with partner Bella, are among two Contra Costa County canine inspection teams.
Sniffing out bug
Last year, Bella nabbed an unmarked parcel containing unshelled pecans from Texas that came with a bonus: some suspicious larvae and saw-toothed grain beetles, a pest not believed to be established in California. Bart, Bella's Contra Costa canine colleague and reformed chicken chaser, still carries buckshot in his hind end picked up in his youth. Dozer, a 3-year-old Labrador retriever mix, joined the California Agriculture Detector Dog Program in Sacramento earlier this year. She replaces the retired Tassie, who once intercepted a package infested with the Asian citrus psyllid, a major industry menace.
During warm seasons, longans – an Asian fruit associated with lychee – send up red flags. "We see a lot of those coming through during the summer," Thom says, adding that they often come from Florida, attached to the branch. They can harbor fruit flies as well as a scale insect alien to California.
Senders and receivers contacted about a tagged package generally are agreeable, Thom says. "The majority of the people will understand."
Still, sob stories abound concerning packages tossed, such as the South Bay-bound Hawaiian leis that failed to reach their 80-year-old birthday recipient. "Much pleading and crying was involved (from shipper and receiver)," according to the program's annual report. Laboratory tests determined the blooms carried ants thought to be destructive. Before disposing of the package, county staff photographed the leis so the mother could see the aloha gifts sent by her daughters.
Shipping tips
To find out about restrictions or quarantines in place, call the agricultural commissioner's office in the county of your package's destination and speak to the biologist on duty. For more information, go to cdfa.ca.gov and type "quarantine manual" in the search link.
After labeling a package in the standard manner with sender's name and address on upper left-hand side and receiver's name and address on middle of package include:
— Name of the plant, fruit or vegetable
— Name of the country, territory or state of origin of produce/plant material
— "OK to open for ag inspection"

Monterey County writer Laramie Treviño is a master gardener with the University of California Cooperative Extension. home@sfchronicle.com
Learn more about the parcel inspection dogs at CDFA's web site.