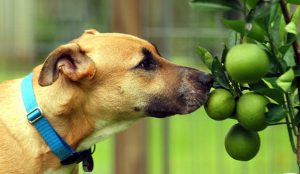 By Robert Rodriguez
They've been used to detect drugs, bombs and bugs.
Now a team of specially trained dogs will put their wet noses to work in California, sniffing out a fatal citrus disease with the potential to cripple the state's $3.4 billion citrus industry.
The crew of 19 canines and their trainers have spent months getting ready for what many hope is an important step toward preventing the disease, known as huanglongbing, or HLB, from invading the state's commercial citrus groves.
Farmers, scientists and industry leaders don't want what happened in Florida to happen here.
The tree-killing disease has ravaged Florida's once mighty citrus industry, costing growers more than $2.9 billion and forcing the destruction of hundreds of thousands of trees. Spread by a tiny insect called the Asian citrus psyllid, scientists have yet to discover a cure for the disease.
In California, HLB is present in more than 800 backyard citrus trees in Southern California. But, luckily for growers, it has failed to hitchhike its way north to the San Joaquin Valley, the heart of the state's citrus industry. And that's exactly how citrus industry officials want it.
Gary Schulz, president of the Citrus Research Board in Visalia, is heavily involved in bringing the U.S. Department of Agriculture dogs to California. Schulz is helping to craft a plan for where the dogs will begin their detection work.
"The USDA has invested millions of dollars in detector dogs and they have proven to be a credible diagnostic tool for early detection and screening trees," Schulz said.
Full article: "Citrus Dogs – Can specially trained pooches sniff out Huanglongbing?" from the Fresno Bee