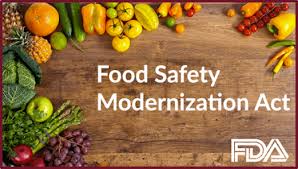 CDFA is currently scheduling an On-Farm Readiness Reviews (OFRR) for readiness for the FDA's Produce Safety Rule when it takes effect in 2019 as part of the Food Safety Modernization Act. 
CFDA is committed to educating produce farmers on how to comply with new regulations under the Food Safety Modernization Act before regulation begins, So, a new unit charged with conducting on-farm inspections on behalf of the U.S. Food and Drug Administration is offering California produce farmers and commodity groups the opportunity to learn what to expect during inspections.  The OFRRs consist of a team of inspectors visiting  farms walking through the process of what will happen during a real inspection.
Rich Ferreira of Lincoln, CA heard about OFRRs through California Certified Organic Farmers, which certifies his organic citrus and was easily able to schedule a time for CDFA's Produce Safety Program inspectors to come out to his farm.
"I attended the required grower training course recently and also scheduled an OFRR with CDFA. The OFRR provided information specific to my farming practices," he said, noting that the inspectors who came out to his farm as part of the OFRR were able to help "connect the dots" between the written requirements and what will actually be expected of him under these new regulations.
OFRRs can be scheduled by contacting CDFA's Produce Safety Program by phone or email. Please note that the Produce Safety Alliance-approved Grower Training is required in order to schedule an OFRR and it's preferable to schedule an OFRR during harvest periods. When you reach out to CDFA to schedule an OFRR, be prepared to provide the following information:
Farm name and location.
A contact person, phone numbers and email addresses.
The produce items grown, harvested, packed or cooled.
Harvest timing.
Produce Safety Program officials have conducted OFRRs so far for crops such as avocados, citrus, walnuts and leafy greens.  They can be scheduled for individual farms, but it is more efficient for a group of farmers to schedule one together. Some commodity groups, like the California Avocado Commission, have already worked with CDFA to hold an OFRR for several growers of the same commodity.
"The Commission's objective is to help California avocado growers understand what will be required of them and to give inspectors a better understanding of avocado production practices," said Ken Melban, vice president of industry affairs for the California Avocado Commission. "We are very interested in knowing full well what is involved under the new regulations and want to see first-hand what will happen during an actual inspection. These OFRRs are really the best way to do that and we have found them to be tremendously educational for all parties."
With official Produce Safety Rule inspections set to begin in the Spring of 2019, CDFA is encouraging California produce farmers to learn as much as they can about the Produce Safety Program before then.  We highly recommend scheduling an OFRR. More information on how to schedule can be found on our website here.