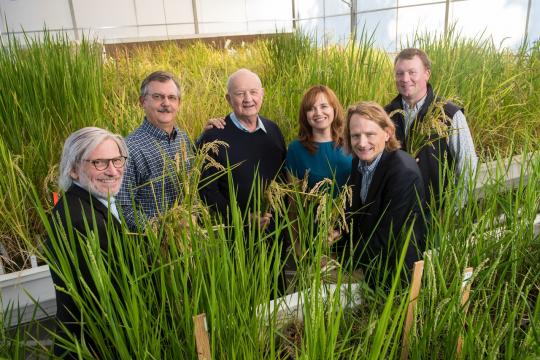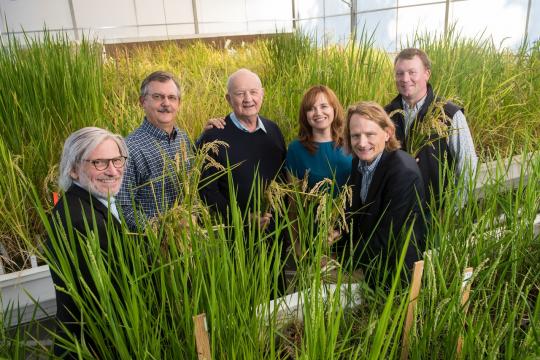 From the Sand County Foundation:
Lundberg Family Farms has been selected as the recipient of the 2018 California Leopold Conservation Award®.
Sand County Foundation, the nation's leading voice for private conservation, created the Leopold Conservation Award to inspire American landowners by recognizing exceptional farmers, ranchers and foresters. The prestigious award, named in honor of renowned conservationist Aldo Leopold, is given in 14 states.
The award is presented annually by Sand County Foundation, Sustainable Conservation, and California Farm Bureau Federation. Lundberg Family Farms of Butte County will receive a $10,000 award and a crystal depicting Aldo Leopold at the California Farm Bureau Federation's Annual Meeting in San Diego on December 5.
Lundberg Family Farms has a long commitment to sustainable farming methods that produce well-known rice products while improving and protecting the environment for generations to come. Started in 1937, the farm is a multi-generation organic rice farm and innovative rice products processor.
"We are honored to receive the Leopold Conservation Award in recognition of the environmental practices we have applied on our farms for over 80 years," said Bryce Lundberg. "Our grandparents instilled a deep respect for the land in our parents. Our family has been deeply influenced to maintain and expand upon that rich tradition."
"We feel a profound responsibility to enhance our environmental stewardship in all that we do, whether in farming operations, where we have substantially expanded our organic farming practices in the third generation, to building wildlife habitat, including a 100-acre-plus riparian forest along the Feather River, to increasing our use of renewable energy, with nearly two megawatts of on-site production, to achieving Platinum Status with the U.S. Zero Waste Council at our primary production site," Lundberg said.
When Albert and Frances Lundberg moved from Nebraska to California's fertile Sacramento Valley to grow rice in 1937, they did not forget the short-sighted farming techniques and poor soil management they saw along the way. They impressed upon their four sons the importance of respecting the delicate balance of nature and promoting soil health with crop rotations and cover cropping.
As a result, they began to grow rice in an unconventional way. By the 1960s, the Lundberg brothers saw the need to become their own processor, and sell their rice directly to consumers. Today, the third and fourth generations of Lundbergs embrace the family's conservation heritage of using agricultural practices to protect soil, air, and water.
The family has pioneered stewardship practices such as flooding fields rather than burning them to break down rice straw after harvest. Since the 1960s, the Lundbergs have found this practice builds soil organic matter while improving air quality. By working with university researchers, they have helped inform fellow growers of this practice, particularly after the burning of rice straw was limited by law.
Not burning the rice straw and planting cover crops also provides habitat for millions of migrating waterfowl to rest, feed and rear their young each winter.
Since the 1980s, the Lundbergs have rescued duck eggs ahead of the rice harvest. In partnership with wildlife conservation groups, the eggs are collected, the ducklings are raised in hatcheries, banded with California Department of Fish and Game tags, and released back into safe habitats. These efforts have saved more than 30,000 ducks.
The Lundbergs' work to encourage water conservation, rotate crops, grow cover crops, and use natural methods for pest control, have made them a leader in organic rice production and wildlife-friendly farming. These techniques are shared with others through farm tours.
"The Lundberg family is an absolute standout for its 50-plus years of truly pioneering stewardship for the benefit of people and the environment," said Ashley Boren, Executive Director of Sustainable Conservation, which has co-sponsored the award since its inception in California. "They've led the way in so many areas. From pioneering organic rice production in the U.S., to boosting clean air by flooding instead of burning fields after harvest, to establishing an egg-rescue-and-release program that's saved tens of thousands of migrating birds along the Pacific Flyway. The list goes on and on."
"The California Farm Bureau Federation is proud to partner with Sand County Foundation and Sustainable Conservation in recognizing farmers and ranchers who make conservation a key focus of their business plan, with the annual selection of the Leopold Conservation Award recipient," stated Jamie Johansson, President.
"This year's California recipient, Lundberg Family Farms, has made conservation of the natural resources on their land a way of life, ensuring that future generations will enjoy the same vibrant ecosystems that they inherited from their parents and grandparents," Johansson added. "As the most productive agricultural state in the nation, California farmers have shown their ability to protect the environment, while producing a cornucopia of food and farm products that not only create sustainable economic stimulus, but help feed the rest of our nation and world. We are proud that so many California agriculturalists share Aldo Leopold's pragmatic vision for conservation and farming and ranching."
Among the many outstanding landowners nominated for the award were two finalists. Rominger Brothers Farm, a diversified farm and ranch in Yolo County that has made significant habitat improvements. Sweet Haven Dairy in Fresno County is a pioneer in irrigation water management and conservation tillage.
The 2017 recipient was C. Jeff Thomson, Thomson International, Inc. a Kern County grower of fruits and vegetables with many wetland conservation achievements.
The Leopold Conservation Award in California is made possible thanks to the generous contributions from American Ag Credit, The Nature Conservancy, Farm Credit West, The Harvey L. & Maud S. Sorensen Foundation, and California LCA Recipient alumni.
For more information on the award, visit www.leopoldconservationaward.org.