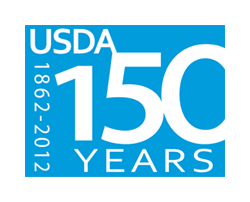 For producers and consumers of food, this is a sesquicentennial like no other. Two weeks ago, we celebrated the 150th anniversary of the signing of the Morrill Act, the single piece of legislation that laid the foundation for the modern agricultural marvel we enjoy today. And now, it's the 150th birthday of the USDA – as Abraham Lincoln called it, "the people's agency." The USDA is another piece of Lincoln's extraordinary legacy, and lasting in the way it still touches millions of Americans every day.
Before I was named secretary of agriculture for California, I was honored to serve as chief of staff for USDA Secretary Tom Vilsack and saw first-hand the phenomenal reach of the agency. It works to ensure food safety, protects the environment and the food supply from invasive species, facilitates trade, provides assistance to rural economies, supports producers in a variety of ways, is a key player in emerging new energy markets, promotes the absolute necessity of healthy eating, maintains a crucial safety net for our hungriest people, and—through its research arm—funds essential agricultural research and extension services that include all-important youth development through organizations like 4-H and FFA.
The USDA truly serves America in ways that can make us all proud. Please join me in wishing the agency the happiest of birthdays. May it have 150 more.