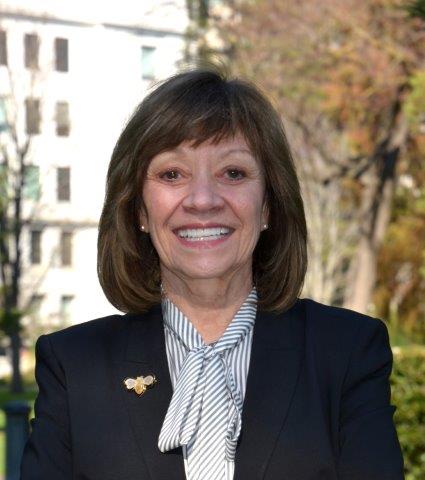 Op-ed by CDFA Secretary Karen Ross
A farm is a great teacher.
Like so many rural kids, my education was augmented and illustrated on my family's farm in western Nebraska. Bottle-feeding calves to ensure proper nutrition, timing wheat-planting around rainfall, rotating fields for soil health, and knowing all too well that we were at the mercy of weather and drought. These are lessons that last a lifetime, lessons that I carry with me as Secretary of the largest ag state in the country; and lessons that remind me, at a time when our farmers and ranchers are affected by climate change, that we in agriculture have the power to help restore balance to our changing climate.
That's why I'm heartened by the leadership of Speaker Nancy Pelosi on this pre-eminent issue – by creating a new House Select Committee on the Climate Crisis. In announcing the panel members Speaker Pelosi said, "I want everybody to be in on the act because this is deadly serious from the standpoint of health, security, economics and morality." She understands that time is short, and that action is needed by all of us – in urban and rural communities.
Yes, this is an opportunity to shift the national conversation away from its focus on the "rural-urban divide" to instead recognize our strong rural-urban connection to each other and the critical role that our natural lands, forests, and working lands on farms and ranches can play in drawing down carbon. And by drawing down carbon in our soils, trees, grasses and shrubs, we also provide food, fiber and timber; and we enhance biodiversity and open space for recreation and tourism.
The impacts of climate change are already being felt in agriculture. In California we have experienced loss of winter chill – crucial hours needed for our orchards and vineyards to maintain winter dormancy. The most recent drought of 2011-17 in California resulted in more than a half-million of acres of farmland fallowed in some years. And changes in precipitation affect grass growth for livestock. These all affect our $50-billion industry.
Yet in California and around the county, farmers and ranchers are innovating climate-smart solutions. My friend Jimmy Emmons in Oklahoma has been trailblazing healthy soils practices on his farm by planting cover crops to revitalize soil; corn growers in the Midwest are practicing conservation and no-till; and, and here in California ranchers like the Stone Family in Yolo County have been applying compost and practicing prescribed grazing to build perennial grasses that build soil health and drought resiliency. I take great joy in talking with my brother, who farms our family land in western Nebraska, as he has adopted these kinds of practices over the last decade.
Agriculture and natural and working lands across rural America are an important part of our climate solution. California took bold action by setting a goal for carbon sequestration as part of our climate portfolio and just last month released a Natural and Working Lands Strategy to store carbon in our trees, shrubs, grasses and soils.
Why are soils so important? They are the largest storage source for terrestrial carbon. They can store water to help mitigate drought and reduce erosion.
California is supporting farmers in sequestering carbon as part of a comprehensive program to foster healthy soils, which are essential to sustainability. At the Global Climate Action Summit in September 2018, California launched a Global Soil Health Challenge in partnership with France, the Netherlands and Baja California. The good news is that California is not alone. Maryland, Hawaii, Oklahoma, Utah, and other states are moving forward in this arena, and we need increased public and private financing to help our rural communities and farmers scale-up as fast as possible. Practices that build healthy soils to sequester carbon also help conserve water, improve yields, protect pollinators, and generate new jobs for rural economies.
The possibilities at-hand can act as a bridge to the urban and rural divide and issue an "all hands-on deck" invitation to all Americans to join together to restore our land, our communities, and our hope.
Even as children, we inherently understand that healthy soil is a powerful, life-giving element in our world. Let's take this opportunity to restore it, and to let it restore us.
Karen Ross is Secretary of the California Department of Food and Agriculture. Ross grew up on the family farm in western Nebraska where she was an active 4-H member. Her brother is now the fourth-generation to farm this ground in Western Nebraska. During her time spent in California, Ross has advocated for farmer owned cooperatives, served as president of CA Winegrape Growers of America and was chief of staff to U.S. Ag Secretary Tom Vilsack. Ross was appointed CA Ag Secretary by Governor Jerry Brown in January 2011 and re-appointed by Governor Gavin Newsom in January 2019.