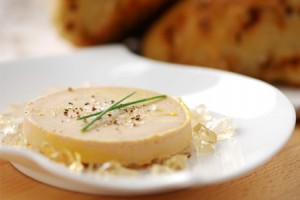 http://www.nytimes.com/2012/06/06/dining/california-chefs-mount-a-repeal-of-foie-gras-ban-set-for-july-1.html?_r=2&scp=5&sq=agriculture&st=nyt
Waddling Into the Sunset
PEBBLE BEACH, Calif.
THE countdown to foie-mageddon has begun.
With less than a month until California's first-in-the nation ban on foie gras takes effect, fans of the fattened duck and goose liver are buying out stocks of the delicacy, searching for legal loopholes and sating themselves at a series of foie-heavy goodbyes.
"We want to get our fill before it's gone," said Terrance L. Stinnett, a lawyer from Alamo, Calif., who attended a farewell lunch here recently. "This is a wake."
July 1 is the start date of the hotly debated and divisive ban, which prohibits the sale of any product derived from the force-feeding of birds to enlarge their livers — the only way to mass-produce foie gras. (The law was passed in 2004, but included a seven-and-a-half-year grace period.)
As the deadline approaches, some of the best-known chefs in California — including Thomas Keller, Gary Danko and Michael Mina — have been mounting a repeal effort and promising new ethical standards. But they are also making practical preparations for the likelihood that they won't be able to overturn the law before it takes effect. Even opponents of the ban say going to bat for high-priced foie gras, after all, isn't exactly an easy political stance in an age of animal rights and fiscal austerity.
So how will chefs replace foie gras, with its butter-soft texture and rich, subtle taste? The short answer, they say, is that they can't, and the sense of loss is palpable.
"It's unlike any other animal product that I know of," said Jon Shook, an owner of Animal, a meat lovers' paradise in Los Angeles where foie gras regularly appears in sauces, as a torchon and in other forms. "We're working on dishes to replace it, but you can never really replace foie gras."
That sentiment was echoed by Michael Ginor, an owner of Hudson Valley Foie Gras in Ferndale, N.Y., who likened it to delicious Play-Doh.
"You can shape it into anything you want," he said. "You can sauté it, you can serve it cold, you can serve it hot, you can cook it at high heat."
You get the idea. The menu at the Pebble Beach event was indicative of the product's versatility across land and sea, entree and dessert. Prepared by several opponents of the ban, the meal featured oysters and raw foie gras; lobster and foie gras noodles (created by squeezing liquid foie gras into a broth); beef tenderloin with seared foie gras and a foie gras emulsion, and vanilla and foie gras crème brûlée.
As that suggests, foie gras is not for the weak of heart or the high of cholesterol. Mr. Ginor said that ducks are much more commonly used today because geese are more labor intensive, more susceptible to disease and temperamental, all factors that make the ducks "more economically sensible" to use, though some believe the taste of goose foie gras is more delicate.
Casey Lane, the chef at the Tasting Kitchen in Los Angeles, said his restaurant almost never serves a portion of foie gras smaller than six to seven ounces, making the dish "a genuine indulgence." He might counter the dish's richness with the sweetness and acidity of a peak-of-the-season apple.
"It's like having the trump card year round," he said.
He, too, bemoaned its loss. "The people that build Porsches, you don't want your gasoline taken away from you," he said. "You're trying to work at the top of your field."
Beyond the kitchen, there are other responses in the works, including whispers of culinary civil disobedience, in which restaurateurs would continue to serve the dish — and risk fines up to $1,000 per violation. Others have suggested that they could skirt the law by offering the foie gras free (with $20 glasses of wine).
The end result, however, will likely be very little, if any, foie anywhere in California. And that disheartens people like Greg Daniels, who runs the Haven Gastropub in Pasadena, Calif., and worries about the state's culinary reputation. "How seriously can you take our culinary efforts when we can't even use this product that's being used everywhere?" he said.
Mr. Daniels warned that the foie gras ban could also limit access to other duck-based dishes, including duck confit and duck-fat French fries. "Even if you can get duck fat, it's probably going to be too expensive for you to fill up a fryer with it," he said.
But such concerns have done little to sway the law's supporters, who see the ban as a victory for humane treatment of animals.
John Burton, the former California legislator who drafted the law, has shot back at the chefs, likening the tradition of foie gras (which dates back centuries) to waterboarding and female genital mutilation.
"Why don't you tell those chefs to have a duck cram a lot of food down their gullets and see how they like it?" he asked.
Such passions are not so surprising. Food fights have become increasingly common in statehouses and at kitchen counters alike, as new generations of chefs and their customers drift toward more animal-friendly products and methods of production. Indeed, opponents of the ban argue that factory farming — not foie gras, which has just two producers in the United States — is a much more serious issue in terms of public health and humane treatment of animals.
That view was shared by Michael Pollan, the author of "In Defense of Food: An Eater's Manifesto," whose examinations of the modern food chain have placed him on the front lines of many battles over what is on the menu. Even though he is not much of a foie gras eater, he does not see the point of the ban.
"I think it's really a way for people to feel like they've done something without doing anything," he said. "There's so many more serious problems we're not dealing with."
But as the Humane Society of the United States points out, many states are moving toward more protections for farm animals, including veal cows, hens and feedlot cattle and pigs. At least two other states, New York and Hawaii, have considered bans on foie gras.
"California is leading," said Wayne Pacelle, the society's president and chief executive. "But it's not alone."
Mr. Pacelle rejected the idea that animal rights activists were singling out a small industry rather than taking on bigger fish. "The notion that we're picking on foie gras is soft," he said. "There's nobody that takes on big agriculture businesses like we do. And foie gras is just cruelty for a table treat."
It remains unclear exactly how painful force feeding (known as gavage) is. The Humane Society says that the process can cause bruises, lacerations and sores, and that the ducks' livers may grow to 10 times their normal size.
The American Veterinary Medical Association says that that is true, though ducks' livers also naturally fluctuate seasonally, but not to such extremes as those of force-fed birds. The association says it is difficult to say how much pain the animals are in when tubes are in place, though it also says that "force feeding overrides animal preference."
David Kinch, the acclaimed chef at Manresa in Los Gatos, Calif., who opposes the ban, said part of the problem with the ban's logic was that its supporters had mistakenly anthropomorphized the ducks' experience of being force fed. "They imagine a tube being shoved down their human throat," he said. Rather, he said, ducks have no gag reflex, nor are geese as cuddly as they appear.
"They are the nastiest animals on the planet," Mr. Kinch said. "They are guard dogs in France."
The group fighting the ban, the Coalition for Humane and Ethical Farming Standards (or CHEFS), has suggested a variety of measures that might make gavage more appetizing, including hand feeding, cage-free birds and regular inspections by animal welfare officers.
None of those seemed to sway animal rights supporters like Bryan Pease, of the Animal Protection and Rescue League in San Diego, who called the chefs' efforts "false and disingenuous."
"All the ducks are already hand fed," he said. "They're hand fed because that's the only way to force a tube down their throat."
Nor was that sort of image likely to sway foie gras aficionados like Mr. Stinnett and his wife, Annette, who spent $200 each to eat seven courses of foie gras in Pebble Beach. They said the ban had already foiled their plans for Mr. Stinnett's birthday in July: Ms. Stinnett said she had tried to bribe a local chef to set some foie gras aside, but no luck.
"I said, 'Will $500 find me some foie gras?' " Ms. Stinnett said. "They said no. He doesn't want to take a chance."