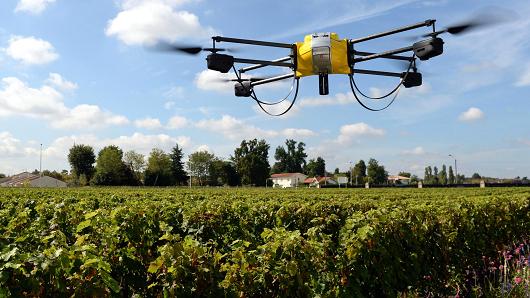 By Kevin Hecteman
There's a bumper crop of ideas growing in Woodland—from measuring a plant's water needs to fighting nefarious pests to streamlining markets.
A Farm-to-Fork Live event recently brought about 70 people to Woodland Community College and AgStart, a business incubator, to learn about agricultural technology and the need for it in a rapidly changing farm world.
"The sustainability of agriculture is under serious threat," said Gabe Youtsey, chief innovation officer for University of California Agriculture and Natural Resources, citing climate change, a rising world population and changing customer tastes.
To address all this, he said, technologies currently being developed individually must come together and work in concert.
AgStart, created nearly 10 years ago, works to help people turn ideas into viable businesses. The incubator currently has 10 paying members and stays in touch with its graduates, said Leanna Sweha, AgStart program director.
"We're very well connected within the community, and we're able to suggest contacts for companies to search for potential customers, to look for pilot project opportunities with growers," Sweha said. "One of the things that we'd like to do here at AgStart is to be able to develop programming that will help facilitate those pilot projects that can really prove out the commercial viability of new technology. "
Among the hopefuls is Michael Santiago, who founded Florapulse with the aim of going commercial with a water-measurement sensor he helped develop while studying for a doctorate at Cornell University in New York.
"It's a little microchip that goes into the trunk of the tree and directly measures the thirst of the plant," Santiago said, adding that the goal is to give the farmer accurate information as to when the plant needs water. The chip sends data to the cloud, and the farmer can access it with a smartphone.
Santiago became involved in the project while studying mechanical engineering at Cornell, "and then we just saw that people really wanted this." That led him to move to Davis, closer to his target markets—winegrapes and almonds.
He's not the only one who made a transcontinental move. Pheronym, launched in Florida, settled in Yolo County to perfect its idea of using nematode pheromones as a means of pest control.
"It was the right ag location, the right talent pool from UC Davis, and they had internships," Fatma Kaplan, Pheronym chief executive and the technology's developer, told the attendees, noting that AgStart has been a big help as well.
"Two years ago, we had an idea," Kaplan said. "Now, we have a proven technology."
Of course, it helps to know where the problem is. Tracking pest and disease pressures is the objective of Robert Sisson, chief executive of PestScope, who's developing mapping software aimed at pest management.
"We're really addressing a problem that came from a pest-control adviser," Sisson said, adding that the PCA told him he knows what's on the property he's scouting, but if he knew whether there were potential threats on neighboring fields, he could take preventive action to protect his client's crops.
Based on field trials, Sisson is adding a weed and insect database with image recognition, to allow a farmer or PCA to identify a potential problem by taking a photo of it.
Comparing the PCA-farmer relationship to that of a doctor and patient, Sisson said protecting proprietary information represents a "critical issue."
"We spent a lot of time trying to draw a line between what can be shared and what is kept private," he said. "In agriculture, there are a lot of solutions that can be found by sharing some information, and finding the balance on how to do that is important."
With the Food Safety Modernization Act the law of the land, keeping track of what came from where will be crucial. Daniel Cathey started Inputs to help streamline marketplaces—allowing farmers to sell directly to processors and end users, or manufacturers to sell directly to farmers. Along the way, he realized cutting out the middleman could have other benefits.
"When you don't have all these distributed networks that make it hard to track that product, it's shortened next to nothing," Cathey said. "It makes traceability a whole lot easier."
Along with helping new businesses get going, Sweha said AgStart wants to help start a laboratory where chemicals and biological matter are tested and analyzed, known as a wet lab, to house ag-tech and food-tech startups.
"We really believe that if we are able to get such a project off the ground and create a space where dozens of companies could rent wet-lab space, we would be able to attract even more companies, say from the Bay Area or from even other states," Sweha said.