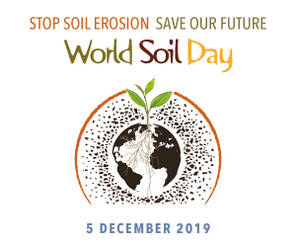 World Soil Day (today, Dec 5) was designated by the International Union of Soil Sciences (IUSS) to recognize the importance of soil as a critical component of the natural system, and as a vital contributor to human life through its connection to food, water, and energy security.
The designation was formally endorsed in 2013 by the Food and Agriculture Organization (FAO) of the United Nations. World Soil Day is an opportunity to raise awareness on the importance of sustaining healthy ecosystems and human well-being by addressing the increasing challenges in soil management and, raising the profile of healthy soil by encouraging governments, organizations, communities and individuals around the world to engage in proactively improving soil health.
CDFA and its partners inside and outside of government have aligned with this through a series of events this week promoting soil health. Today, the California Compost Coalition, CalCAN, and the Community Alliance with Family Farmers (CAFF) will facilitate a tour of a local compost facility and farms employing healthy soils practices.