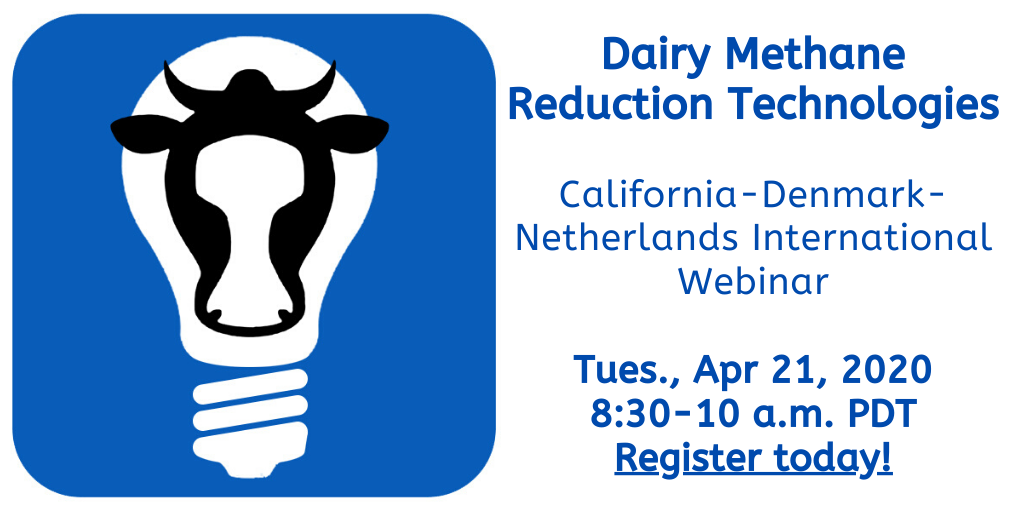 Join CDFA and the Governments of Denmark and the Netherlands
The State of California, Denmark and the Netherlands are all actively working to reduce methane gas emissions, capture methane gas from dairy operations, and utilize that gas as a renewable energy source. This webinar will focus on climate-warming greenhouse gases from dairy and livestock operations, and new technologies to mitigate emissions.
Learn more about the many different new and existing technologies that reduce methane gas emissions through adjustments in housing, manure storage, and feed or animal genetics; and technologies that capture and use dairy biogas.
This international webinar will also highlight recent policy efforts to use dairy methane as a renewable natural gas and energy source.
DATE: April 21, 2020

TIME: 8:30-10 a.m. in California
(5:30-7 p.m. in the Netherlands and Denmark)

ADVANCE REGISTRATION REQUIRED:
https://attendee.gotowebinar.com/register/5467055893108487693
Webinar ID – 646-133-163
Questions? Email cdfa.oefi@cdfa.ca.gov