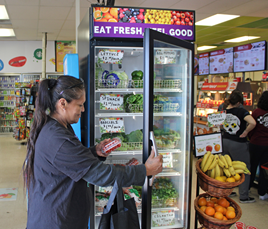 The California Department of Food and Agriculture (CDFA) is committed to helping all Californians access healthy and nutritious California-grown food. But for many disadvantaged Californians, our state's bounty is out of reach.
Two programs helping to bridge the gap between underserved communities and California-grown nutrition are CDFA's California Nutrition Incentive Program (CNIP) and the Healthy Stores Refrigeration Grant Program (HSRGP).
"I'm eating better because I can afford to get fresh food, fresh vegetables and fruit that I wouldn't get otherwise," said one CNIP participant in an evaluation survey. "It gives me a chance to taste and to eat … foods that I wouldn't feel like I could afford. … I just think it's fabulous."
CNIP empowers low-income shoppers to purchase more healthy food for their families while also supporting California farmers. An example of how CNIP works is that for every CalFresh food stamp (SNAP) dollar spent at participating farmers' markets and retail outlets, CNIP provides an additional dollar for CalFresh shoppers to spend on fresh fruits and vegetables, within set parameters. In three rounds of grants since beginning in 2017, more than $4.5 million of CNIP incentives have been distributed to low-income shoppers at 319 locations.
"It's really helped our family," said another CNIP shopper in an evaluation survey. "I mean, my daughter's 15. She's loving fruits and vegetables now."
In corner stores of low-income or low-food-access areas throughout the state, HSRGP funds energy-efficient refrigeration units to stock fresh produce, nuts and minimally processed foods. The program's purpose is to improve access to healthy food choices for underserved communities; what are often referred to as food deserts. In the past year, approximately $4.5 million of HSRGP grants were awarded to 57 grantees, funding 13 refrigerated trucks and refrigeration units in more than 200 corner stores. The trucks help with produce procurement for corner stores and facilitate mobile markets that can meet shoppers wherever they are.