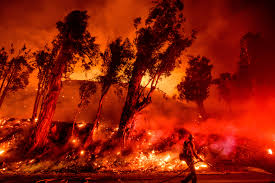 Fairgrounds in Solano, Napa, Nevada, Monterey, Los Angeles and Plumas counties have been activated to provide emergency shelter to people and animals in the path of series of fires in California.
Horses, goats, chickens, sheep and donkeys are among the animals currently being sheltered. They will be cared for as long as necessary and every effort will be made to reunite them with their owners.
This emergency function is yet another example of how California's network of fairs partners with local communities as public assets and essential institutions that serve Californians in many important ways.