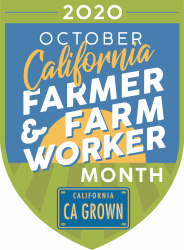 By CDFA secretary Karen Ross
CA GROWN has announced that the first-ever California Farmer and Farmworker Month will be recognized in October. It is a fitting tribute in a most challenging year.
When COVID-19 hit, farmers, farmworkers and the entire food and ag value chain moved swiftly and effectively to redirect supply lines from foodservice to retail and on-line platforms where possible. They increased contributions to food banks to avoid waste at a time we faced a substantial increase of need. They learned on the fly, securing personal protective equipment (PPE) and implementing operational and scheduling changes to keep workers safe. No segment of our society has handled the abrupt disruptions flawlessly, but through it all, agriculture has maintained an adaptive, creative, can-do approach.
The teamwork in response to this crisis includes California's county agricultural commissioners. They have fulfilled an essential role is helping the state deliver PPE to farmworkers, and I offer my heartfelt thanks for their efforts. Through partnerships with ag and community based organizations, they have distributed 3.25 million N-95 masks for protection from wildfire smoke, in addition to COVID-19 PPE – 13.4 million surgical masks; 1.1 million cloth mask; 58,200 units of sanitizer; and 350,000 pairs of gloves.
I also want to mention the Housing for the Harvest Program, which was introduced by Governor Newsom in July and provides temporary hotel housing to farm and food processing workers who need to isolate due to COVID-19. The state will book the hotel rooms and has partnered with counties and local organizations to help administer wraparound services like transportation, meal delivery and wellness checks.
Housing for the Harvest is currently live in six counties (Kings, Fresno, Riverside, San Joaquin, Santa Barbara and Tulare), and we are hopeful that many more counties will join this crucial program in the weeks ahead.
California farms and ranches support 1.2 million jobs and generate $263 billion in total revenue for the state. We are an economic driver – but more than that, we are the source of a resilient urban food supply and a critical component of food security for our nation and beyond. The continued health of our industry is vital to this nation, and to customers across the globe. California's essential agricultural workers plant, pick and pack a third of the vegetables and two-thirds of the fruits and nuts in America. and they care for the livestock that makes us the number one dairy producing state. That scale makes our state's ag sector foundational in taking care of humanity's most basic needs.
In a more ordinary year, I would spend time reflecting on the fact that the diverse bounty of our fields, orchards and pastures is the basis for our unique California food culture as well as our state's character, beauty and allure. California is simply wall-to-wall with iconic landscapes, and many of those feature our farms, our rangelands, and our open spaces.
But this year, farming is less about iconic vistas and more about simple sustenance. It's about growing food, protecting our food supply, and exceeding our annual average donation of 160 million pounds of nutritious food to California's food banks. It's about caring for one another.
This year, California's agricultural community has come together like no time in recent memory. Through COVID-19, market uncertainties, heat waves, and wildfires we understand the importance of the work we do. We honor friends and neighbors who have been impacted, and we mourn the loss of loved ones and colleagues.
Despite the daunting crises that we face, safe and healthy food gives us much to be thankful for. These last six months have increased the curiosity of Californians about where and how their food is produced. It offers us a tremendous opportunity to connect with consumers and is the very reason why CA GROWN is proud to officially proclaim October as Farmer and Farmworker Month. As part of that recognition, the organization will donate one pound of food to the California Association of Food Bank's Farm to Family Program each time the hashtag #buycagrown is used on social media platforms. I would like to express my appreciation to CA GROWN for its commitment in putting together this important opportunity to show our appreciation.
We have learned to do a lot by phone and computer from the confines of our homes these past six months. I am sure virtual events and business sessions will continue to have a large role in our professional and educational lives, even when COVID-19 is behind us. But you can't telework planting seeds, milking cows, or harvesting crops. Technology has many important roles in our industry, but at the end of the day, it is our people – our farmers, our ranchers, and our workers – who ensure agriculture can feed us.