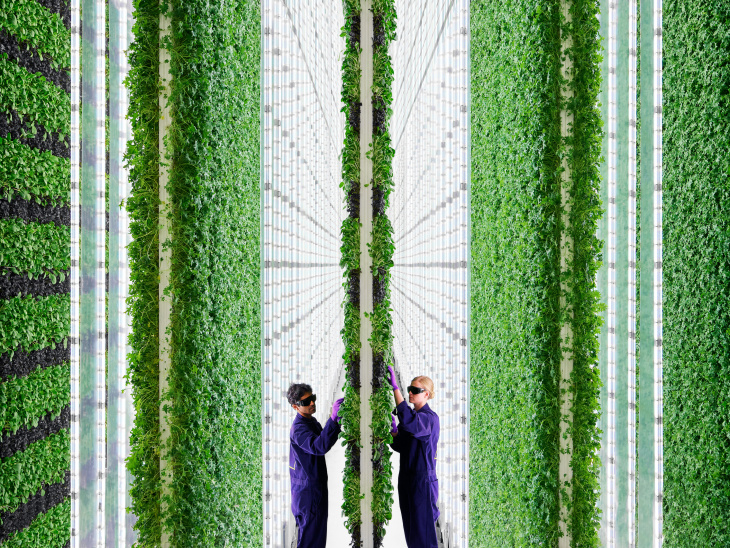 By Stefan A. Slater
From the outside, the gray and white warehouse near the corner of Oris Street and Mona Boulevard seems like a thousand other mundane Southern California buildings. But the interior, once completed, will resemble a sketch from a futurist's daydreams. If all goes well, the 95,000-square-foot Compton facility will house rows of hydroponic towers organized into emerald walls of non-GMO, pesticide-free leafy greens. These plants won't rely on sunlight in order to grow. Gleaming LED lamps will provide all the light the crops could ever want. Robots will transport seedlings while other machines move the towers as part of an orchestrated production process. Picture a grow room in a futuristic Martian colony and you're probably on the right track.
The operation is run by Plenty, a San Francisco-based startup that uses vertical farming to create high-quality, nutritious plants "you'd actually want to eat" (their words). Stated another way, they grow crops, often without natural light or soil, in vertically stacked beds in enclosed and controlled environments.
Plenty wants to build at least 500 of these vertical farms around the planet, especially in densely populated cities of at least 1 million people.
The first Plenty farm, in South San Francisco, went into production in 2018, and was upgraded in the summer of 2019 to increase production. For its agricultural second act, the company chose Compton.
Plenty's long-term goals go beyond tasty salad greens. It wants to combat food apartheid by bringing healthy, locally-grown crops to communities that lack access to nutritious produce.
"We want to invest in places where we can serve a large number of people," says Shireen Santosham, the company's head of strategic initiatives. "Compton can help us better serve Los Angeles while also allowing us to invest in a community with a long history of farming."
The goal for Plenty's Compton outpost, once it's running at full capacity, will be to create enough produce to make regular deliveries to hundreds of grocery stores. In early August, the company reached an agreement with Albertsons to provide 430 of its California stores with assorted leafy greens.
Company reps say the Compton site will initially focus on producing kale, arugula, fennel and bok choy before adding strawberries to its repertoire. They expect prices to be similar to organic leafy greens currently on grocery store shelves.
The company was hoping its Compton farm would be able to bring produce to market by the end of 2020 but the coronavirus pandemic altered that timeline. Plenty now hopes to start its first customer deliveries sometime in 2021.
WHY COMPTON?
Los Angeles has for centuries been a land of citrus groves, peaches, olives and even vineyards, and Compton was no exception. In the late 1860s, Reverend Griffith Dickenson Compton led roughly 30 people from Stockton to settle in and cultivate the area. Rough weather and tremendous floods nearly destroyed their dreams, but they persisted, and their agricultural efforts eventually began to thrive.
In 1888, Compton donated his land and the area was incorporated as the city of Compton under the condition that a swath of it be zoned for agriculture. That particular area — a 10-block neighborhood sandwiched between downtown Compton and what's now the 91 Freeway — became Richland Farms, known for a variety of crops including pumpkins, sugar beets and cauliflower. By the 1940s and '50s, Compton had become a working-class suburb. African American families, many of whom had moved to the West Coast to work in military production during World War II, settled there and were drawn to the Richland Farms neighborhood. With its large lots and agricultural zoning, residents could grow crops and raise livestock to provide for their families and their community.
Richland Farms — home of the Compton Cowboys — remains a living link to Compton's agricultural past. Drawing on that history, Plenty began designing and developing its Compton vertical farm (located a few miles north of Richland) in the summer of 2019.
"There is just a rich tradition of farming in Compton, and to have Plenty come back in an innovative way is exciting for our community," Compton Mayor Aja Brown says.
City officials are working with the company to connect its facility with nearby schools so kids can learn about vertical farming and the technologies associated with it.
OK, BUT WHAT EXACTLY IS A VERTICAL FARM?
Compared to traditional field agriculture, which humanity first started tinkering with approximately 12,000 years ago, vertical farming is in its infancy.
One of the first vertical farms was a hydroponic system built in Armenia sometime before the early 1950s, although there's not much information about it.
The modern vertical farm, at least in the way we think of it, was popularized two decades ago by Dickson Despommier, an emeritus professor of public and environmental health at Columbia University.
In 1999, he wanted students in his medical ecology class to explore ways they could feed New York's residents on crops grown entirely within the city. They started with rooftop gardens but those barely made a dent in the amount of food they needed. Then, Despommier remembered the city's abandoned buildings. "What if you could fill up those buildings with the grow system that you've instituted on the rooftop and just increase food production?" he says.
The result was a multi-level, urban farm featuring layers of crops stacked on top of one another.
Until the 21st century, commercial vertical farming seemed like the stuff of utopias, a grand if impractical dream evangelized by a handful of futurists and agricultural techies. But the last few years have seen a jump in interest — and venture capital. Between 2016 and 2017, investments in vertical farming grew nearly eightfold.
In 2017, Plenty received $200 million from several high-profile investors including Alphabet chairman Eric Schmidt and Amazon founder Jeff Bezos. One of its East Coast competitors, Bowery Farming, received a $90 million investment from Google Ventures.
AeroFarms, which uses aeroponics to grow produce, scored $40 million from IKEA and Sheikh Mohammed bin Rashid of Dubai. The United Arab Emirates is also hoping vertical farming will boost the country's limited domestic food production. The Abu Dhabi Investment Office sunk $100 million into four ag-tech companies, including Aerofarms, which plans to build a new vertical farm and R&D center in Abu Dhabi.
WHY DO WE NEED THEM?
Vertical farming is all about efficiency. The process allows growers to control and monitor light, oxygen, nutrients, temperature, humidity and carbon dioxide levels. In a vertical farm, you don't need to wait for the right season. Growth and harvesting can occur year-round.
Plenty's approach relies on automation, intricate sensors, machine learning and hydroponic grow towers where plants are cultivated in a nutrient-rich water solution instead of soil. With this method, the company claims it can grow 350 times as much produce, per square foot, as a conventional, outdoor farm — all while consuming a fraction of the water.
"[Vertical farms] are much more water-use efficient than field production," Neil Mattson, associate professor of plant science at Cornell University, says.
Santosham claims Plenty's vertical farms will use "about 1% of the land and 5% of the water" required by a comparable traditional farm.
Producing more food with less land is a must if we want to keep humanity fed.
By 2050, Earth will have 9.8 billion residents and two-thirds of them will probably live in a city. In places like Los Angeles or New York, where real estate doesn't come cheap, vertical farms could be installed without taking up much space.
Produce from vertical farms would also be less likely to spoil since it would, in theory, only travel a few miles to the nearest grocery store, market or restaurant, instead of sitting on a plane or cargo ship for hundreds or thousands of miles.
Plus, vertical farms could help make our food supply chain more resilient.
Since March, the pandemic has impacted everything from beans to strawberries. When the hospitality industry shut down, some farmers had buyers for only half of their crops, so they had to let them rot or plow them back into the soil. Dairy farmers dumped millions of gallons of milk. Meat plants have had to shut down due to COVID-19 outbreaks. Plus, the workers who pick the crops, raise the cows and run the slaughterhouses have been ravaged by the virus. And all of this has been happening while hunger skyrockets. In the last six months, food banks have seen a surge in demand, in some cases by as much as 600% percent.
"I don't think all of our food is going to come from urban production," Mattson says. "It does add diversity to our food supply chain to have some of our produce — the nutrient-dense foods — come from close to where they're consumed."
With COVID-19 exposing the weaknesses in our food supply chain, Mattson believes indoor growing (which includes vertical farming and greenhouses) and more localized production might get their moment in the high-intensity LED spotlight: "We're going to see these trends happen even quicker than if we hadn't encountered COVID."
A PEEK INSIDE
The Compton farm is still under construction but the company is using its existing South San Francisco facility as a template.
That facility, which started in 2015 as a container farm, features 50,000 square feet of production space and a roughly 10,000-square foot grow room. It provides produce to approximately 40 grocery stores and runs entirely on solar and wind power.
The Compton farm will feature a similar grow system. Employees, referred to as growers, will oversee the process of cultivating seeds into seedlings. Robotics will transfer the seedlings to large vertical grow towers, arranged to form what looks like a vast, green wall.
The amount of time produce spends in the grow room depends on the crop. Nate Storey, chief science officer and co-founder of Plenty, explains that one leafy green crop might go through the entire process from seedling production to harvesting in two to three weeks. That's significantly less time than if those crops were grown via traditional agriculture.
On a large, outdoor farm in the Salinas Valley, baby kale would typically require 35 to 50 days, depending on the time of year, before it was ready for harvest, according to Richard Smith, a University of California Cooperative Extension vegetable advisor for the Central Coast.
"For something like lettuce, where you might be waiting for several weeks in the field, we're carving a significant amount of time off that production schedule," Storey says.
Once the plants spend some time in Plenty's grow room, robots pick up the towers and retrieve the produce, which is moved to a processing area where it's packaged. Through it all, human hands never touch the food.
"We're able to create an environment that's so favorable to plants and not pathogens or pests that we can deliver a product without ever applying pesticides, which is a big win," says Nick Kalayjian, senior vice president of engineering at Plenty.
In fact, without bugs or human contact, he claims Plenty's produce doesn't need to be washed. Kalayjian also says the small adjustments in temperature, water, nutrients and light result in produce that's at the peak of flavor.
Plenty sent me samples of their baby kale, baby arugula and Sweet Sunrise mix, a combo of fennel, beet leaves and other greens. Did visions of tree stars seize me and shatter all perception of space and time? No. But they did taste exceptionally fresh. The flavors were strong, clean and… just good. I found myself snacking on the Sunrise mix straight from the package, something I never do with greens.
WHERE DO WE GROW FROM HERE?
Vertical farms aren't cheap to build. They also require a lot of energy to run, much more than conventional field agriculture or greenhouses. "That, to me, is one of the big sticking points," Mattson says.
In a 2020 study, Mattson and other Cornell University researchers studied the economic and environmental impacts of bringing leaf lettuce to U.S. cities via field-based agriculture vs. CEA (controlled environmental agriculture) supply chains such as greenhouses and vertical farms.
"We had almost the same carbon footprint of growing in a greenhouse in New York City as compared to field growing and shipping 3,000 miles. The vertical farm had about twice the carbon footprint of either of those," Mattson says.
In Plenty's case, making sure their farms operate on sustainable, renewable power is a priority. The South San Francisco facility has a power purchase agreement in place with a renewable provider to supply the farm with sustainable energy. Plenty wants its Compton farm to run entirely on clean energy but that won't happen until some undetermined point in the future. Company reps couldn't offer a more precise timeline on when that might happen.
Warehouse-sized vertical farms may someday be common sights in major cities but it'll take time to scale up to that level. No one, except maybe the most optimistic futurists, thinks vertical farming is going to overtake field agriculture anytime soon.
"We're an additive technology, not a replacement technology. We simplify the supply chain and allow domestic production in places that don't currently have it," Kalayjian says.
Although vertical farming is still in its earliest stages, Despommier urges us to imagine how it might work in 50 years. "We're looking at a sort of Stanley Steamer [car], not even a Ford Model T," he says, "We're looking at the early trials and tribulations of an industry that wants to supply all of your food. Look how fast it took America to go from no cars to two cars per person."
Maybe by the time humanity has figured out how to colonize other planets and build Star Trek-style replicators, the urban dwellers of earth will rely on skyscraper-style vertical farms. Maybe thousand-acre fields of fruit and vegetables will someday look as obsolete as rotary phones. Until then, we'll be playing in the dirt, just as we've done for thousands of years.