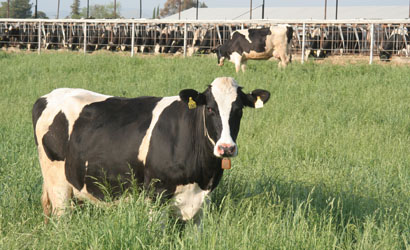 CDFA Secretary Karen Ross and Minister Rasmus Prehn of Denmark's Ministry of Food, Agriculture and Fisheries have signed a Memorandum of Understanding (MOU) focusing on dairy innovations and technologies addressing climate change.  The signing event, which was held virtually, included agricultural stakeholders from California and Denmark, and featured a presentation from the Center for Policy Research on Energy and the Environment at Princeton University.
"In California, we have invested more than $264 million in Climate Smart Agricultural programs focusing on the dairy sector over the last five years," said CDFA Secretary Karen Ross "This has resulted in more than 236 projects that will achieve a reduction in CO2 emissions of more than 23 million metric tons of CO2 equivalents over 10 years."
"This partnership with Denmark on climate smart dairy collaboration will help to connect farmers, academia and government on the shared challenges related to methane emissions in the agricultural sector – providing the foundation for action and innovation in the future."
This MOU continues CDFA's international collaboration on climate smart agriculture activities. Over the last few months, the department has conducted webinars with Portugal (Lisbon and Tagus Valley) and South Africa (Western Cape). This adds to the ongoing work over the last five years which has included more than 10 webinars on climate smart agricultural issues with a variety of international partners.