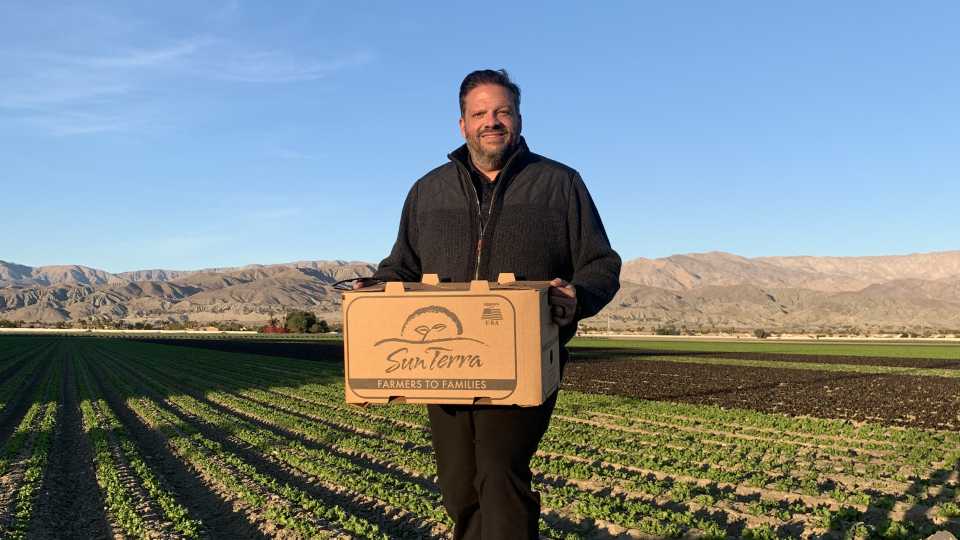 By Mindy Robinson
Prior to the pandemic, SunTerra Produce enjoyed an excellent reputation as a grower, packer, and shipper of fresh fruits and vegetables. The Newport Beach, CA-based operation partners with more than 14 farms in the U.S. and Mexico, adhering to food safety standards throughout the harvest, storage, and distribution of a diverse range of produce.
Their typical customers include a variety of retail, food service, processor, and wholesale customers in North America.
Today, SunTerra includes local food banks among its customers.
"Food banks weren't out looking to buy produce," says Steve Brazeel, founder and CEO of SunTerra. "So they were not a viable customer in our eyes."
Although farms have crops left over after harvest, Brazeel admits he and his peers would throw it away if it didn't live up to their customers' standards.
"Farming is so competitive, and the margins are so tight, that donating a bunch of stuff doesn't usually bode well for the bottom line," he says.
So why did Brazeel, a smart businessman, add food banks to his customer list?
It Started With a Government Program
Prior to the pandemic, even in Orange County — one of the wealthier communities in the U.S. with the median house priced at $785,000 — food banks were already moving 500,000 pounds of food per month.
When the pandemic hit and more people were out of work, the need increased.
In late April 2020, USDA created the Farmers to Families Food Box (FFFB) Program. In the first round of funding, SunTerra bid for and was awarded $6.27 million to distribute family-sized boxes of fresh food to people who needed help.
Suddenly, SunTerra had a new set of (USDA-sponsored) customers — local food banks and food charity organizations. And significantly, the food banks had a new supplier — one that was uniquely qualified to provide truly fresh produce.
How Food Banks Work
Most growers contribute a modest amount of produce to local food banks. Those who never sold to food banks (rather than donated) may not realize they can be a viable customer.
Brazeel learned that dealing with food banks is very similar to dealing with large warehouse customers such as Costco.
SunTerra brings the produce to food bank warehouses that have the refrigeration capacity to properly store fresh produce.
"In our (food box) networks, 60% of the produce goes to traditional large food banks," Brazeel says.
Those food banks then move the boxes into the community through smaller neighborhood organizations.
The other 40% of the food boxes are distributed in touchless, drive-through, truck-to-trunk events.
One community that has particularly benefited from the program is the Navajo Nation located in Utah, where SunTerra food boxes are distributed in partnership with the Utah Navajo COVID-19 Relief Program.
A Future Without Government Money?
In the 2020 USDA FFFB Program, the U.S. government paid SunTerra and other contractors to provide food boxes to local food banks and other food charities. And Brazeel believes there is still a future for food boxes in SunTerra's business plan, even without support from the USDA. He notes two main takeaways from the FFFB Program that have potential in the future.
1. Fresh Produce Is Good for Food Banks
"One takeaway is that the food banks, for the first time, got a chance to see what 'No. 1 produce' looks like when it is delivered consistently, regularly, freshly, on time, every time.
"They were shocked by the efficiency of the supply chain," Brazeel explains.
The food banks were even more delighted by the shelf life and quality of the produce.
"The food banks thought this stuff was going to be a ticking time bomb, because they've never had produce that was actually fresh from the field," Brazeel says.
What food banks realize now is that, if properly handled, fresh produce is a great product for their clients.
"When I first started, I put strawberries and lettuce in some boxes, and the food bank said, 'This is going to explode in a day.' I said, 'No, I packed that yesterday; that'll be good for 10 days.' And they said, 'Ten days? It'll be out of here in two days.'"
That's faster than any Walmart distribution center, Brazeel notes.
"Literally, what's harvested yesterday is in someone's fridge today," he says.
That means now that vulnerable families have had access to fresh produce, food banks are going to reevaluate their budgets, Brazeel says.
"They do have money to purchase items. They will buy less canned goods and more fresh fruits and vegetables," he says.
2. Food Banks Are Good for Farmers
Farmers who participated in the program now see food banks as a potential customer, Brazeel says. And while food banks demand fresh, nutritious, safe produce, it doesn't have to be perfect.
"It can have a blemish or two, or it doesn't have to be a specific size, and it can be packed using misprinted or unused packaging," he says.
He clarifies that the point is not to grow extra produce for the food bank market; instead, farmers can plan ahead.
"If someone is sorting out undersized or oversized fresh produce, don't put it in a fancy waxed box that costs $2; instead, put it in a cardboard box, cool it, and send it over (to SunTerra) because I'm going to use it today. And it's going to be in someone's fridge tomorrow."
While Brazeel learned food banks could be good customers, he also discovered that SunTerra can pack and distribute food boxes on a large scale. It has the warehouse space and packing lines in place. Even more importantly, it has a mature line crew management team who stepped up to handle the internal logistics of packing the food boxes.
For example, with only seven days' notice, on the first day of allowable deliveries, SunTerra delivered seven truckloads of food boxes to seven different food banks located in four different states. They efficiently sourced products from 15 different grower-shippers from four different states into more than 10,000 boxes (250,000-plus pounds total).
But growers do not need to have large, integrated operations to build a good food bank business, Brazeel says. Small and mid-sized farms can partner with larger grower/packer/shipper operations that can easily use small truckloads of produce to fill food boxes (boxes do not have to have identical items).
"I love the way the food box program works now, in the sense that you free flow around and take products that the market doesn't want," Brazeel says.
Any farm can realize extra profit from selling less-than-perfect produce in less-than-perfect packaging while making fresh food available to people who need it. It's a win-win-win situation.
Working with Food Banks Pays in Other Ways
Providing food boxes has benefits beyond the bottom line.
"They are fun to do, and they're exciting, and I think they're something that is going to be in the future," Brazeel says.
The people he met deeply impressed him.
"They are a teacher or an accountant or have some other job during the day. And they're just dedicating their time
to hand out food to people. They're not making any money on that. It's not their job."
Working with food banks taught Brazeel something else. Something about community.
"There are so many people out there doing awesome things in our communities that I never saw in my own community. So it connected me more to my community. So as long as there's any sort of demand for any type of food boxes — private, public, government program, or otherwise — we would love to continue to do it."