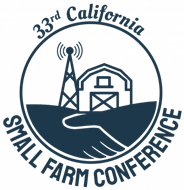 The 33rd annual California Small Farm Conference will feature CDFA secretary Karen Ross and agency staff during its series of educational webinars, videos and online forums February 22-28.
Hosted by the Community Alliance for Family Farmers (CAFF), this year's virtual conference features farmers, ranchers, industry professionals, students, and local food advocates digging into topics of soil health, appropriate-scaled technology, small farm marketing, and social issues..
Secretary Ross will join the "Meet the Ag Policymakers" panel the afternoon of February 25. CDFA Direct Marketing Program staff will discuss new regulations impacting certified farmers' markets during the "Farmers' Market Manager Training" session the morning of February 22.
Visit the Small Farm Conference website for more information and to register for workshops, most of which are free.