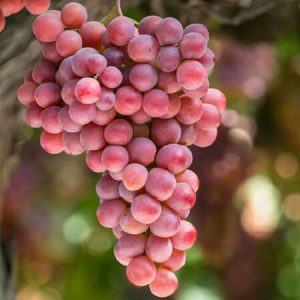 By John Cox
U.S. shoppers expect them and so grocery stores do, too — but how do you deliver a summer fruit like grapes all 52 weeks of the year?
It's not as easy as shipping them from as far away as Brazil, though that's part of it. Only the heartiest grape would survive the trip still looking fresh and crunchy.
That's where Kern County fruit breeders come in. Their sophisticated but conventionally based selection methods yield grapes that not only offer long shelf lives but also withstand the temperature fluctuations common on long journeys.
In doing so, local companies have helped raise and now support consumer expectations that are relatively new. Bananas may have become a perennial staple long ago, but having grapes as a year-round fruit became practical relatively recently.
"Virtually all of the grape varieties we have been developing for the past decade or so have been bred to withstand longer transport periods," David Marguleas, president of local breeder Sun World, said by email. "Whether fruit is distributed across the country or across the world, shelf-life is important to the farmer, the retailer and of course the consumer."
DAILY EXPERIENCE
For Sun World and locally based fruit breeder International Fruit Genetics, longevity and heartiness are among many characteristics growers draw out to entice grocery store customers. While taste and texture are also critical, the industry understands that making fruit available every month feeds into the all-important, day-to-day experience their products must offer.
Plus, growers have learned the hard way that major retailers tend to forget about suppliers who drop off their radar for months at a time. A better way to serve buyers is to keep delivering products and don't stop just because the grape growing season ends in the northern hemisphere.
"It's getting to the point where … if you're not in their face, you know, year-round then you lose them," said Kevin Andrew, senior vice president at Bakersfield-based farming company Illume Ag, which plants varieties licensed by IFG and Sun World.
The benefit doesn't only fall to South American farmers. Most grape growers in Kern, where table grapes are the county's second highest-grossing crop, also export to Asia and Australia. Marguleas said it's important to them that the varieties they plant hold up during the several weeks it usually takes to get a freshly harvested shipment to buyers faraway.
STRATEGICALLY CONSISTENT
Andy Higgins, CEO of Bakersfield-based IFG, said breeding as much year-round fruit as possible is part of the company's quality and support strategy.
One reason it licenses to 14 countries, he said, is to ensure consistent deliveries to consumers. Having staff in each of those countries is part of executing that strategy. Higgins said overseas employees measure and monitor local crops, checking for consistency across various countries of origin.
The company's laboratories in Delano, which use advanced fruit-breeding techniques but like Sun World do not employ genetic modification, put promising new grape varieties through a rigorous set of tests designed to simulate different conditions shipments endure.
"We'll screen our genetics based on that," Higgins said, adding that temperature fluctuation is among other variables tested.
FINDING REASSURANCE
Operational coordination helps, too. Higgins said one grower-customer got nervous upon noticing its first crop of what was supposed to be a green variety was showing up a little redder and yellower than expected.
The company was able to check with farmers elsewhere who'd grown the same variety before and had excellent results despite the first season's surprising appearance. Higgins said their success reassured the grower and its buyers that consumers would enjoy the grapes despite the color aberration.
Some specialty grapes may have never been available year-round, Higgins admitted. But that's OK, he said, because IFG has developed and continues to breed varieties that arrive in grocery stores just as another goes out of season.
That way, he said, shoppers just might push their carts past the table grape to see what tasty new variety became available this week.
Andrew at Illume said consumer expectations have risen to the point that shoppers expect to see grapes every time they go shopping, just as they would expect to see lettuce.
That leaves grocers no choice, he said: "They have to have it."