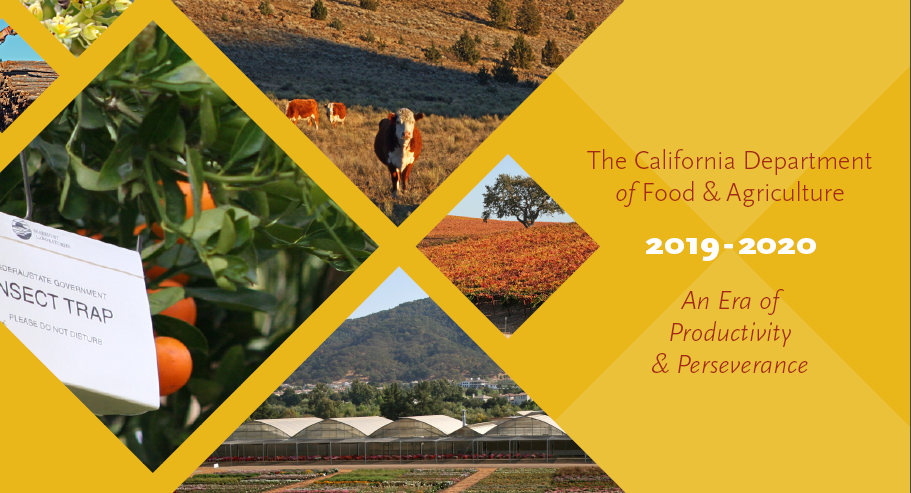 By CDFA Secretary Karen Ross
It's strange now to think back to a little more than a year ago, to recall ending 2019 and beginning 2020 with a distinct sense of clarity about what we as an agency and we as a state were doing, where we were headed. We even had some ideas about messaging with the way the number "20/20" conveys clarity in the visual sense. Our purpose and our plans were in place.
COVID-19 had other ideas. There is simply no achievement or policy or election that can alter the simple, awful fact that our global community has lost millions of people to a disease that all of us have struggled to control. It was clear from the start that the California Department of Food and Agriculture and the larger agricultural community had a job to do – an "essential" job. That term took on new meaning and significance as the year progressed, and as Californians focused on what was truly necessary and most important.
California's wildfire season also caused our agricultural regions considerable grief and disruption; at one point in September 2020, 17 of our fairgrounds were activated as community resource centers, animal rescue centers, and staging sites for fire and emergency response agencies.
In an ordinary time, this report, CDFA 2019-2020; An Era of Productivity and Perseverance, would be about what we as a department do to help and protect farmers and consumers. This year, it's also about how we have changed the ways we do those things to fit the new realities that 2020 has brought.
I'm proud of the way this agency and this industry have adjusted. I'm proud of the way we have maintained our focus on the food supply and the essential people who grow, harvest and provide it to Californians and consumers around the world.