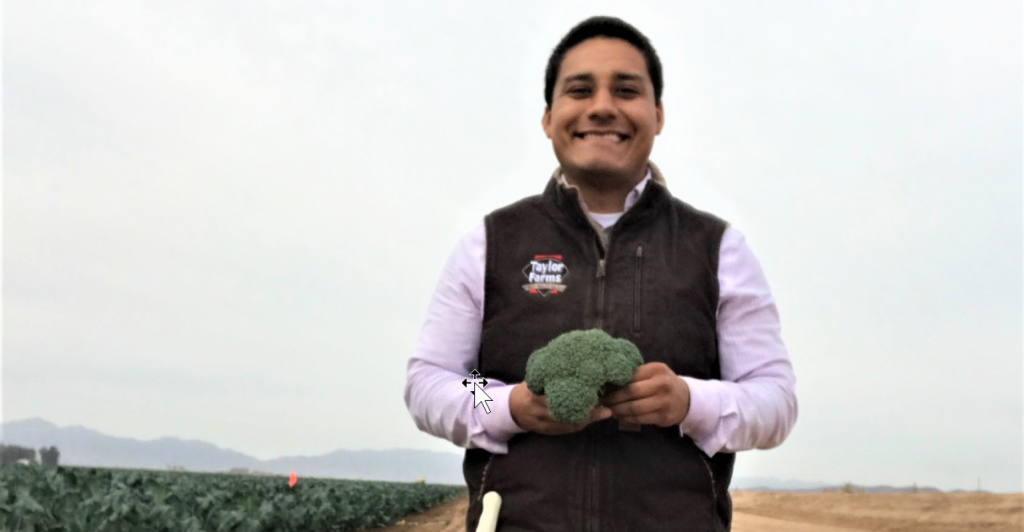 By Tim Hearden
The son of immigrants, Miguel Gomez knows a thing or two about seizing the future.
After growing up watching his father work 60 hours a week as a leafy greens foreman in California's Salinas Valley while attending night school at a local community college, Gomez is taking a similar path.
He works full-time in sales and operations for vegetable processor Taylor Farms while taking 16 units at California State University, Monterey Bay in pursuit of a bachelor's degree in agricultural plant and soil sciences.
With his experience, and with a goal of working toward a doctorate in plant pathology, Gomez could be a face of the next generation of agricultural workers – those with humble backgrounds as traditional laborers who are gaining the knowledge and skills necessary to participate in the budding technology revolution.
Gomez urges his peers to be self-motivated, learn good communication and "people" skills and learn how networking works.
"Don't fear change," he said March 18 during a virtual conference. "Always raise your hand and say, 'Here, I'll do that.' Above that, you have to be willing to learn.
"You don't have to get it right" in the beginning, he told about 400 high school students watching on video. "You just have to get it going."
Gomez made his remarks as a featured speaker during an evening online reception to open the two-day Salinas Valley Ag-Tech Summit (earlier this month), which focused on the importance of education for tomorrow's workforce.
His talk inspired California Food and Agriculture Secretary Karen Ross, who was seen smiling on video as Gomez spoke.
"It is such an exciting future," Ross told the student. "I can tell by the way you talk that you already know that."