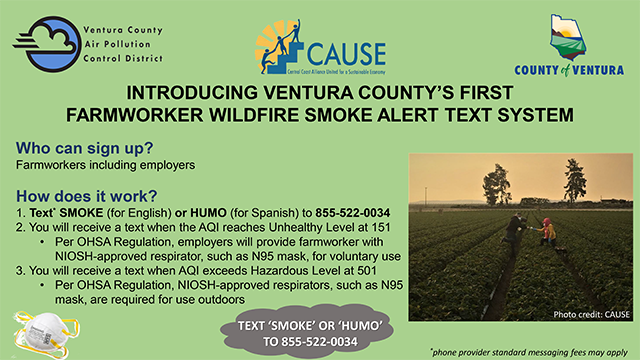 System will let farmworkers, farm staff know when masks are recommended and required
By Lance Orozco
Wildfires pose a threat to lives and homes on the Central and South Coasts. Smoke can also create a health danger for farmworkers. Now, a new text-based warning system is in place to let farmworkers known when they should be wearing masks to protect themselves.
During the Thomas Fire in 2017, and the Woolsey Fire in 2018, a number of non-profit groups tried to reach out and get masks out in the fields to Ventura County's farmworkers. But, it was hard to tell exactly where and when they were needed, and who needed them.
Lucas Zucker is the Policy and Communication Director for Central Coast United For A Sustainable Economy, better known as CAUSE. Zucker says the situation got him, and some Ventura County officials, thinking. How could they keep farmworkers informed about air quality?
It took a year of work, but the end result is something they call the "Farmworker Wildfire Smoke Alert Text System."
The text system is set up to let farmworkers, who have opted in to get a message, when air pollution has reached the level when use of an N-95 mask is suggested, and a message when smoke has reached the point where the masks are mandatory.
Ventura County Agricultural Commissioner Ed Williams says the text system is a simple new tool to help protect the health of the county's more than 40,000 farmworkers.
Ventura County Air Pollution Control District Director Dr. Laki Tisopulos says he hopes that other counties will consider adopting this simple, yet important approach to keeping farmworkers informed about air quality.