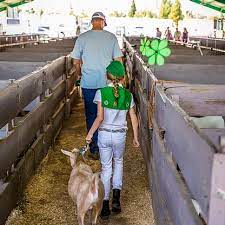 By Bill Poindexter
Meat, it's going to be what's for dinner for quite a while in these parts – and beyond.
Feed the Hungry of Auburn has attended the Gold Country Fair Junior Livestock Auction for 30 years, supporting the FFA and 4-H kids who are selling their animals after raising them since birth, then donating the meat to The Salvation Army, various food closets, rescues and other organizations.
Craig Hollyfield, who along with wife Nita, Michelle Fish and Ken Tokutomi founded Feed the Hungry, said the nonprofit usually receives a donation or two each year, but they were stunned last Saturday (Sept. 11) as the donations, with auctioneer Matt Wolter giving an occasional mention, grew … and grew … and grew – to 15 donated animals.
"We were completely overwhelmed emotionally because we had more donated animals than we had ever had," Hollyfield said. "People would buy a $3,000 hog or a $2,000 lamb and say, 'We're going to donate this to Feed the Hungry.' Not take it home or to a wholesaler, they're going to put it right back into our community."
"We were just in shock, total shock," Fish said. "And we would look at each like deer in headlights – oh my God, there's another donation. In a time in our world with COVID and the state of our state and our nation, you're just blown away at the gifts."
The buying – and giving – brought many to tears. Feed the Hungry Chairperson Angela Atteberry said one woman broke down after her son sold a dozen eggs for $1,600. The money can go into the sellers' college accounts or to the cost of raising the animals. Junior Livestock Auction sales topped $590,000 as of Thursday, according to Gold Country Fair CEO Don Ales, with another week of add-ons still to go.
"People at the auction are supporting the children," Hollyfield said.
"It was just an overwhelming generosity. I have to say, it was a breath of fresh air for me personally because of the atmosphere, the parents, kids, buyers, FFA, 4-H, an incredible spirit of community," Atteberry said. "It was a true spirit of what we are as a nation. It truly embodied the community and the America I grew up in, where we help one another … out of a sense of joy. The bids went so high they were crying. I wanna tell you, tears of joy. It touched my heart. It made me very thankful and grateful.
"We came home Saturday and the euphoria lasted through the weekend. I was still in awe. It blessed me. It blessed my efforts."
Feed the Hungry purchased two steers and five hogs with $30,000 in community donations. Add the 15 donated animals – a combination of hogs, goats, lambs and steers – and the live weight added up to 8,200 pounds. The net weight after processing was 4,500 pounds.
"We're feeding the community," Fish said. "Just think of all those folks we're going to feed."
Who will Feed the Hungry feed? Salvation Army Auburn, Chico and Oroville (this is Feed the Hungry's third year supporting Camp Fire survivors), Auburn Interfaith Food Closet, Sierra Reach Food Closet in Applegate, Acres of Hope in Auburn, Auburn Renewal Center and more.
"It's going throughout Placer County: shelters, domestic violence, food closets, seniors, homeless," Fish said. "We're going to be able to take care of Placer County better than most counties."
Atteberry said distribution will start Monday with Salvation Army Oroville and Chico.
"People have to eat while they're trying to rebuild their lives," Fish said.