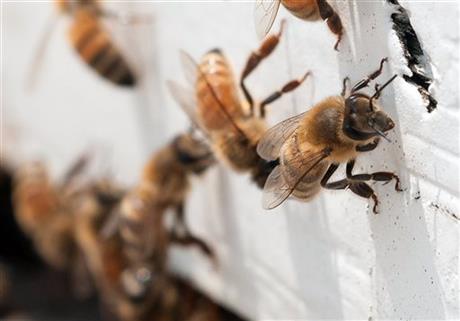 Scientists from CDFA's Office of Pesticide Consultation and Analysis (OPCA) have been recognized by the Agricultural & Applied Economics Association (AAEA) for co-authoring a paper recently published in the Journal of Economic Entomology.
The paper, titled Balancing Bees and Pest Management: Projected Costs of Proposed Bee-Protective Neonicotinoid Regulation in California, received the award for "Outstanding Published Paper Which Significantly Contributed to Transdisciplinary Work of Specialty Crops Industries," and was presented to OPCA scientists as well as researchers with University of California (UC) Cooperative Extension and the UC Davis Department of Agricultural and Resource Economics.

There has been a recent effort from state and national governments to regulate neonicotinoids — a critical crop protection tool for many pests. Without mitigation measures, they can be harmful to managed pollinators, including bees.
The California Department of Pesticide Regulation (CDPR) began crafting regulations in 2018 to mitigate neonicotinoid dangers to managed pollinators. OPCA's consultative services were used to outline potential regulatory impacts on production agriculture. As a result, three papers were written estimating potential economic impacts on California farmers for mitigating neonicotinoid risk. Those findings were then incorporated as CDPR began finalizing the regulations. The second of the three papers on neonicotinoids received the award.