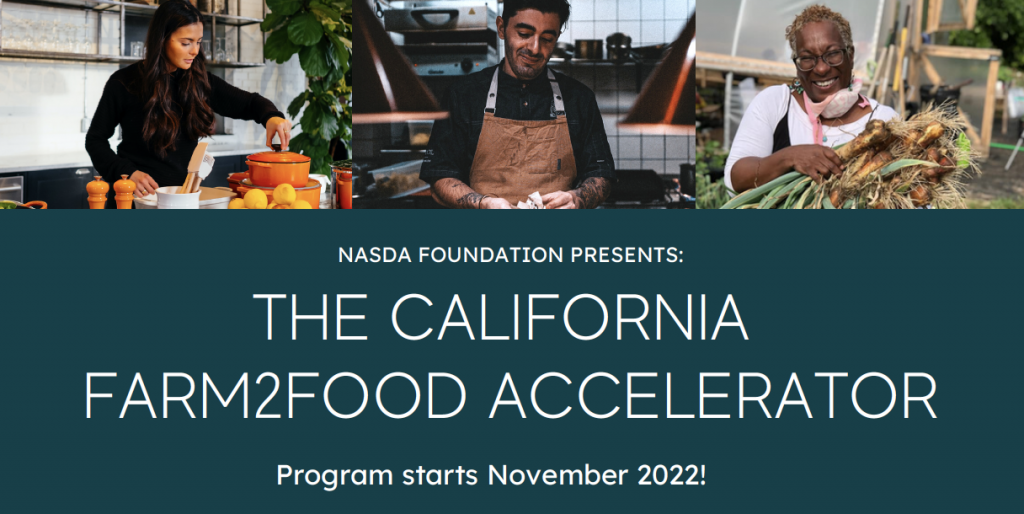 Applications are Open and Classes begin in November.
Classes are also available in Spanish with bilingual instruction and curriculum.
CDFA is partnering with the NASDA Foundation (National Association of State Departments of Agriculture) to launch a Farm2Food Accelerator Program in California This comprehensive training program, which has been introduced in four other states, empowers small-scale, BIPOC and women farmers, ranchers and entrepreneurs to grow their food and beverage businesses through a 15-week online training program.
Participants have the unique opportunity to:
Connect with a community of farmers, food entrepreneurs, and food experts
Launch a new food product or enhance an existing product
Get free consultations and "office hours" with experts
Participate in online live 75-minute lunchtime weekly discussions
Attend a national or regional food show
Research shows that value-added production–the act of processing raw agricultural goods into finished products such as foods or beverages–can increase profitability, increase shelf stability of products, expand market seasons, increase visibility, and allow farmers and ranchers to enter new markets.
The program is a great opportunity to learn skills and approaches to scale-up small-farm businesses and expand consumer reach.
Learn more about this opportunity and apply to be a participant at: https://www.f2faccelerator.org/california-program
También podrá inscribirse a una sesión informativa y llenar su solicitud: https://www.f2faccelerator.org/programa-de-california
"The Farm2Food Accelerator was a space that managed to feel both professional and personal. Each week I felt inspired to innovate and better the products that I have been working on."

Crystal Leon, The Radish Hotel, Nevada 2022 Farm2Food Graduate
"Every detail of this course was top notch. To hear from and talk directly with well information experts in their designated areas of the sales process was precious."

Cetta Barnhart, Seed Time Harvest Farms, Florida 2022 Farm2Food Graduate