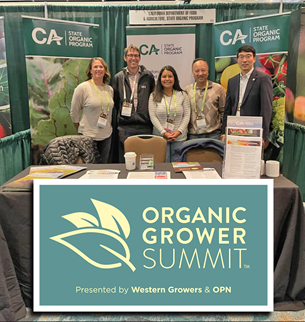 The California Department of Food and Agriculture's California State Organic Program (SOP) invites attendees of the sixth annual Organic Grower Summit to visit the SOP booth in the exhibitor section. The event runs November 29-30.
The summit provides a great opportunity for the organic ag community to interact with SOP staff as well as industry leaders, National Organic Program staff and others involved in organic production. It's presented by Western Growers and the Organic Produce Network at the Hyatt Regency Monterey Hotel & Spa in Monterey.
The Organic Grower Summit is designed to provide information vital to organic growers and producers, as well as an overview of the opportunities and challenges in the production of organic fresh food. The two-day event boasts a sold-out trade show floor featuring soil amendment, ag tech, food safety, packaging and equipment exhibitors who will have the opportunity to connect with growers as well as organic field production staff, supply chain managers, pest management advisors and food safety experts. For more information, please visit www.organicgrowersummit.com.