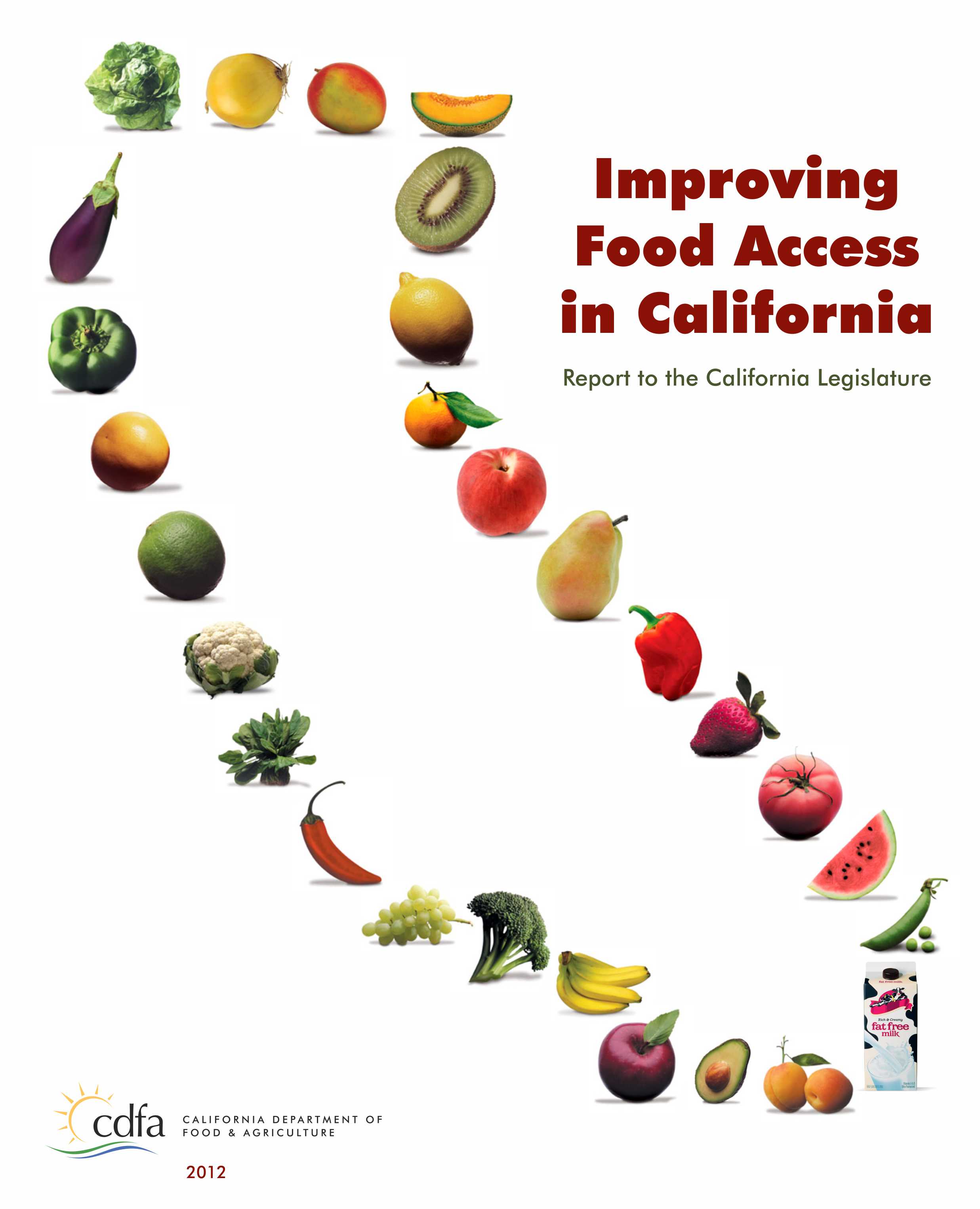 California agriculture is incredibly productive and diverse. While food from the state's farmers and ranchers is generally available to many, there are still too many Californians lacking sufficient access to healthy foods.
To remedy this situation, in 2011, Governor Edmund G. Brown, Jr. signed AB 581, authored by Assembly Speaker John A. Pérez, which created the California Healthy Food Financing Initiative (CHFFI) to improve access to affordable, good-quality, healthy food.
CHFFI empowered Secretary Karen Ross of the California Department of Food and Agriculture to convene an advisory group to develop recommendations to be submitted to the Legislature on ways to achieve this. The recommendations in this report, "Improving Food Access in California," address how the infrastructure that moves food from farmers to consumers bypasses certain communities . The recommendations to reduce these occurrences fit broadly into four categories and rely heavily upon resources and capabilities that already exist here in California or are obtainable at the federal level:
•Improving the Distribution of Fresh Produce
•Expanding Retail Options for Healthy Food
•Helping Low-Income Consumers Purchase Food
•Supporting Nutritious School Meals
"This report highlights a number of important steps we can take to ensure that every Californian has access to quality, nutritious food, which is a major issue in urban and rural communities alike," said Speaker Pérez. "Children, especially in low-income families, need the best possible start in life, and that begins with making sure they have access to food that will help them grow up healthy and perform better in schools. This report provides a pathway to ensuring that every child in California has access to healthy foods by eliminating food deserts."
Through an amazing combination of factors, including geography, geology, good weather and hard work, California is blessed with an abundance of nutritious, healthy food. The recommendations in this report creatively match existing resources with innovative solutions, and can help ensure that all Californians have the opportunity to share in that bounty.
"I want to thank the diverse and broad base of stakeholders who contributed to the development of this report," said Secretary Ross. "Improving access to healthy, California grown food for the most needy among us is a passion we all share and is most poignant during this holiday season."