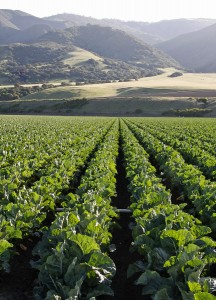 Over the years, numerous research projects have investigated different aspects of fertilizer management for crops grown in California. In many cases, however, a comprehensive , current, research-based overview of fertilizer management is missing.
In an effort to address this, FREP is working collaboratively with researchers at UC Davis to make this  information accessible in a user-friendly way. This project aims to synthesize information from peer-reviewed journal articles and research reports, and to make these summaries available online.
This joint effort has resulted in a series of interactive fertilization guidelines for major crops grown in California that present accurate, timely, efficient and effective crop nutrient information in a user-friendly, visually interactive interface. The guidelines include information about application rates, time of application, fertilizer placement and types of fertilizers. In addition, deficiency symptoms are described and the use of soil and plant tissue analysis is discussed.
An initial ten priority crops were identified by considering acreage and nitrate sensitivity of the area in which they are grown. Guidelines for almonds, processing tomatoes, broccoli, and lettuce are already available online. The remaining guidelines will be uploaded to the web page on a flow basis.
Developed by Dr. Daniel Geisseler, a post-doctoral researcher at UC Davis, the guidelines provide an overview of the fertilization management of these crops. However, they are not thought of as a replacement for in-depth discussions with local farm advisors or fertilization experts about site-specific adjustments based on soil type, climate and crop management.
The guidelines complement the searchable, web-based database of FREP-funded research  introduced last year. Over the past 20 years, CDFA's Fertilizer Research and Education Program (FREP) has funded over $12 million dollars worth of scientific research on the environmentally safe and agronomically sound use of fertilizing materials.  Summaries of completed FREP research projects can now be accessed through the database.
These initiatives are part of a larger departmental effort to bring practical solutions that aid growers in enhancing on-farm environmental stewardship practices and effectively using agricultural inputs. Balancing agricultural inputs with the output of food and fiber production to supply a growing global population is an important part of farming in California.