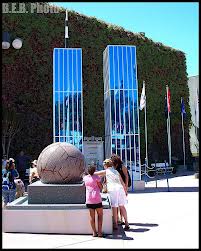 In observance of the twelfth anniversary of the September 11th attack, Cal Expo officials have announced the California State Fair 9/11 Memorial Plaza will be open to the general public on Wednesday, September 11 to honor the victims lost twelve years ago.
The memorial will be open from 8:00AM – 6:00PM, and is located inside the Main Gate on the fairgrounds in Sacramento. Admission and parking will be free. No formal ceremony is planned.
Central to the exhibit is a beautiful fountain which includes a granite ball inscribed with all of the names of the September 11th victims. Additional features include a massive 125,000 pound steel I-beam from the World Trade Center extracted from Ground Zero, which had been a horizontal support beam from the North Tower and a carillon bell tower, pictorial reflections of the World Trade Center and individual memorials offering tribute to American Airlines Flight 77, which crashed into the Pentagon, and United Airlines Flight 93, which aborted in a field in Pennsylvania.