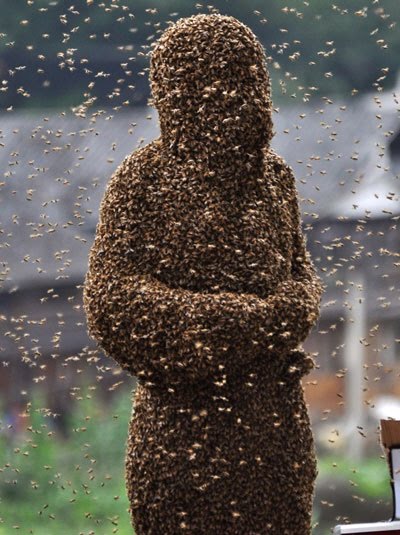 http://www.capitalpress.com/article/20131017/ARTICLE/131019914
There's little that Barbara Allen-Diaz wouldn't do to raise money for education.
The vice president of the University of California-Davis agriculture department has promised to "wear" thousands of honey bees if she can raise $2,500 by Oct. 31 for the university's "Promise for Education" campaign.
If she can raise $5,000, she'll eat insect larvae to promote awareness of alternative protein sources.
The pledges are part of an effort to provide more scholarships to UC students around the state in need of financial help, said Pamela Kan-Rice, spokeswoman for the Davis campus' Division of Agriculture and Natural Resources.
"In the end, I decided to wear bees so I could highlight the importance of pollinators — and bee pollinators in particular — to the future of agriculture and food production, and the future of our planet," Allen-Diaz told the Capital Press in an email.
Eating the larvae "enables me to highlight that there are many places in the world where insects provide a sustainable source of protein, and furthermore insects may provide a new source of protein for some human populations that are protein deficient," she said.
Allen-Diaz will do the demonstrations with the help of Norm Gary, a retired UC-Davis entomologist. The bees will be clustered onto either a UC ANR T-shirt or banner.
The administrator will have to overcome a fear after having had numerous unpleasant encounters with bees, including when she jumped off a rock wall as a child and landed on a bee hive, receiving 11 stings on her neck and face.
Most people are afraid that bees want to sting them, Gary said, but they don't if they're well-fed and are near powerful synthetic queen bee odors — pheromones — which pacify them.
Gary holds the Guinness Book of World Records mark for the most bees — 109 — in his mouth. He kept them there with his mouth closed for 10 seconds. He has trained bees to perform action scenes in movies and TV shows.
Is Allen-Diaz nervous?
"You bet," she said, "although I am probably just as nervous about eating insects and/or insect larvae."
Allen-Diaz said she was assured that Mark Hoddle, a Cooperative Extension specialist at UC-Riverside, has experimented with lots of flavorful, edible larvae dishes.
"Thus, this is an opportunity to raise undergraduate scholarships for UC students, an opportunity to highlight the importance of agriculture and natural resources programs in UC, and an opportunity to highlight the extensive research and extension programming that we do in UC ANR," she said.