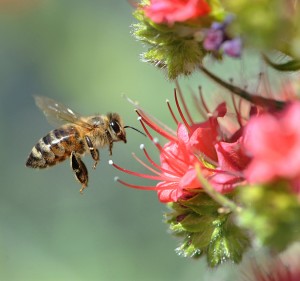 California has the largest beekeeping industry in the nation, and continues to be one of the top honey-producing states, but how much do you know about honey and the bees that produce it?
Three bee scientists from the Department of Entomology, University of California, Davis, will be among the speakers at the first-ever "Honey!" event on the UC Davis campus. Set from 9 a.m. to 6:30 p.m. on Friday, Oct. 21 in the UC Davis Conference Center, the public celebration of bees and honey is sponsored by the Robert Mondavi Institute for Wine and Food Science. The Department of Entomology is a co-sponsor.
The conference center is located across from the Robert and Margrit Mondavi Center for the Performing Arts. (For reservations and the schedule, see the Robert Mondavi Institute for Wine and Food Science website.)
Extension apiculturist Eric Mussen, a member of the UC Davis Department of Entomology since 1976, will discuss "The Wonder of Honey Bees." He was recently featured in a two-part series in the American Bee Journal. Assistant professor/bee biologist Brian Johnson, who specializes in the behavior, genetics and evolution of honey bees, as well as apiculture, will speak on "How Bees Cooperate to Make Honey and What they Do With It When We Don't." Johnson, former a UC President's Postdoctoral Fellow at UC Berkeley, joined the faculty of the UC Davis Department of Entomology in July. Emeritus professor/bee scientist Norman Gary, an author and professional bee wrangler, will cover "Hobby Beekeeping in Urban Environments." Gary retired from the UC Davis Department of Entomology in 1994 from UC Davis after a 32-year academic career.
All three will speak during the morning session.
Afternoon speakers are Louis Grivetti, professor emeritus, UC Davis Department of Nutrition, discussing "Historical Uses of Honey as Food" and Liz Applegate, professor, UC Davis Department of Nutrition and director of Sports Nutrition Program, "Sweet Success—Honey for Better Health and Performance."
The event also will include a honey-focused lunch, displays and music. Honey tasting, coordinated by Mussen, takes place from 3 to 3:45 p.m. The Honeybee Trio, a trio of teenagers from Vacaville, will perform at an evening reception.
Reservations may be made online at http://robertmondaviinstitute.ucdavis.edu/honey or with Kim Bannister at bannister@ucdavis.edu or (530) 752-5171.