http://www.latimes.com/business/money/la-fi-mo-turkey-beer-20131108,0,4258790.story#axzz2lDIvUHnY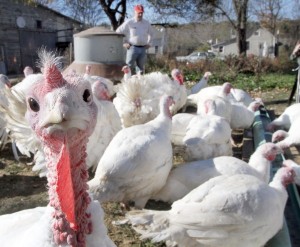 By Ricardo Lopez
Turkeys will eat just about anything. Just ask Joe Morette.
In 1993, the New Hampshire farmer and his workers popped open a few cans of beer after work one summer day. When one his birds knocked over a can, it quickly began guzzling the spilled suds.
Ever since, Morette gives his flock of turkeys beer and swears the grain-based diet improves their taste, the Associated Press reports.
"Oh, yeah, it's noticeable," Morette told the wire service. "It's not a strong, gamey flavor, it's a nice turkey flavor."
He's currently raising about 50 birds for Thanksgiving Day.
Switching poultry and livestock to unconventional diets isn't new. During last summer's massive drought, for instance, one Kentucky farmer began feeding his cattle candy because the price of corn skyrocketed.
In France, some farmers have plied their cows with wine. They swear it gives their beef a more textured taste.
But what about PETA?
The animals rights group told the AP that Morette's actions were questionable, criticizing the practice as profit-motivated. But poultry experts said the birds were probably not drinking enough to make them sick or even tipsy.