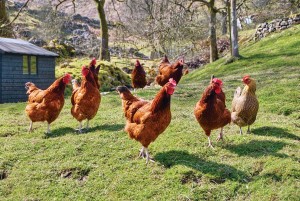 By Reed Fujii
If you keep animals and they die, state animal health experts will examine the remains and report on the cause of death.
For a cow, pig or rabbit, the state laboratory charge is about $120.
For small pets, the fee is higher, nearly $195 for rodents such as hamsters and gerbils and $495 for cats and dogs.
But for a chicken or duck, the autopsy is free.
The little-known program is increasingly popular, the California Animal Health and Food Safety lab reports in the current October-December issue of California Agriculture, a University of California journal.
One or two birds may be submitted for a free necropsy (the term for a nonhuman autopsy) by owners of backyard poultry: chickens, turkeys, waterfowl or other birds raised for food.
In the six years through 2012, the program has received nearly 2,800 backyard poultry for analysis, about 14 percent of all birds from individual and commercial sources. And in each of those years, paralleling the growing popularity of keeping chickens at home, the number of birds from backyard flocks has grown, reaching 835 in 2012 compared with 173 in 2007, the researchers report.
Cherie Sintes-Glover, a 4-H poultry project leader in San Joaquin County and an expert on keeping chickens, said the state Backyard Flock program can help poultry owners quickly diagnose problems that may arise.
"It's a great resource for the backyard chicken growers," she said. "It provides them a report, and they can actually talk to a clinician or a doctor who performed the necropsy and get details on what they found. … They will actually help you find out what's going on with your chickens."
The program, which costs the state about $130,000 a year, protects both California's multimillion-dollar poultry industry and, more importantly, public health, said Dr. Annette Jones, state veterinarian and director of Animal Health and Food Safety.
It's really an early warning system – a canary in a coal mine, if you will – against avian-borne diseases that may emerge in backyard flocks.
"Generally what happens is these diseases come in through someone who, maybe not maliciously, smuggles in a parrot or a chicken; and it was in his backyard for a while; and then it spreads to the neighbor's chickens; and it gets to a certain level and just explodes," Jones said Friday.
"It's like a forest fire. If you let that fire get to a certain size, … it's very difficult to destroy it. It can affect millions and millions of birds."
That most recently occurred in late 2002, when exotic Newcastle disease, a dreaded avian virus, was discovered in a Southern California backyard poultry flock. It was eventually found at thousands of sites, including commercial poultry farms. Before being eradicated, more a million birds were destroyed, and the cost was more than $160 million.
"That was horrible," Jones said, recalling that she was in charge of the state's response to the outbreak.
The agency is also on the lookout for signs of a bird flu or avian influenza, which many scientists warn could trigger a global flu outbreak on the scale of the 1918 pandemic.
"That, really honestly, is what our backyard bird program is aimed at – to be able to find and get rid of that virus if it comes into California," Jones said.
While backyard flocks are generally not allowed in residential areas in Stockton or unincorporated San Joaquin County, they are legal in county areas with larger lots, such as rural residential zones. Residents of other cities should check with their local planning or code enforcement officials.
The testing labs nearest to San Joaquin County are in Davis and Turlock.
For more information about the program and instructions on how to submit poultry for testing – sorry, they do not return the remains – call the toll-free hot line, (866) 922-BIRD (922-2473).
Link to article – http://www.recordnet.com/apps/pbcs.dll/article?AID=/20131207/A_BIZ/312070320/-1/A_BIZ