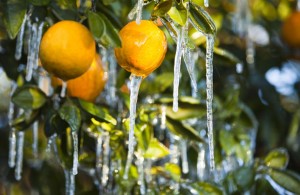 By Todd Fichette
Could the recent cold snap in California's San Joaquin Valley have been just what the doctor ordered for citrus industry officials worried about discoveries of the Asian citrus psyllid? Only time will tell.
A study published in the Journal of Insect Science,conducted by David G. Hall, Erik J. Wenninger, and Matthew G. Hentz, sought to determine how cold is too cold for the tiny disease-vectoring pest. Hall and Hentz are with the USDA-ARS in Fort Pierce, Fla., and Wenninger from the University of Idaho, Twin Falls Research and Extension Center.
Several experiments subjected adult ACP and their nymphs to freezing temperatures for periods of time in greenhouse situations. Eggs from outdoor colonies were also tested in Petri dishes held at freezing temperatures.
Results of the studies suggest that temperatures similar to what was seen in the current freeze event in the San Joaquin Valley could have a lethal effect on the ACP. The scientific studies showed psyllid mortality after adults were subjected to temperatures of -4.5C (23.9F) or colder for several hours.
Not only did temperatures in the San Joaquin Valley reportedly reached lows as cold as 17 degrees in some locations, temperatures in some locations – particularly Sunday night (Dec. 8) into Monday morning (Dec. 9) – were below freezing for as much as 14 hours, according to some reports.
Temperatures of 17 degrees for as little as two hours in the controlled studies showed complete mortality of non-acclimated adult psyllids. It is important to note that these were targeted scientific research studies; citrus growers were doing everything in their power to increase orchard temperatures and avoid fruit damage.
According to one study done in a temperature-controlled greenhouse, few adult psyllids died when exposed to temperatures of -4.5C (23.9F) or colder for "several hours," but more did die when exposed to these temperatures for longer periods of time. Mortality occurred slowly over three to four days, the study says.
Egg and nymph mortality studies were promising as well. One experiment subjected eggs and nymphs to temperatures ranging from the upper teens to low 20s Fahrenheit. Nymph mortality of near 95 percent was seen in as little as four hours at -8.2C (17.24F), to eight hours at -5.5C (22.1F).
While the study does indicate a hard freeze can have lethal impacts on the ACP – this is a good thing in the long-term – the resulting fruit damage in the short-term is obviously not good for growers. Still, the big question remains: have the small number of psyllids discovered in the San Joaquin Valley thus far been able to vector Huanglongbing in local commercial orchards? That answer won't be known for several years.
Link to the article : http://westernfarmpress.com/blog/could-california-freeze-be-good-thing-acp-fight
NOTE – CDFA asks residents and growers in freeze areas to remain vigilant in their search for Asian citrus psyllids, as the studies mentioned were conducted in a greenhouse and conditions could be different than a field environment.