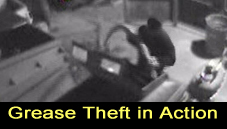 By Sharon Bernstein
California is trying to find new ways to catch thieves who steal used cooking grease from restaurants in hopes of making money by selling it to companies that turn it into alternative biofuels.
Citing a rise in such thefts, state Assemblyman Chris Holden has introduced a bill in the state legislature to allow California Highway Patrol officers to pull over the typically unmarked pumper trucks that thieves use to carry such oil and demand to see paperwork proving that it is theirs.
"The theft of used cooking oil (Inedible Kitchen Grease or IKG) from restaurants is on the rise in California," the state Department of Food and Agriculture says on its website. "It has become a major crime in our cities and counties."
Like copper, the state says, the grease has value as a commodity, and is often sold by restaurateurs to make extra money. Legitimate haulers also try to turn a profit by agreeing to remove the waste from restaurant sites and sell it to rendering companies, which turn it into usable fuel such as bio-diesel.
The state's website shows a picture of a red pickup truck with an unmarked cylindrical container in its bed, which the website said is an image of a black-market hauler siphoning grease from a container into which it has been placed by a restaurant.
As currently written, Holden's bill would provide for penalties of up to $10,000 for those convicted of stealing the grease, which the state Department of Food and Agriculture says is worth about $600 per truckload.
The Pasadena Democrat's bill would also allow the CHP to confiscate the trucks of drivers who do not carry the necessary paperwork.
Holden's spokeswoman, Wendy Gordon, said she was not certain whether the high penalties would remain in the bill as it makes its way through the legislative process. But she said the thefts are becoming more common as biofuels increase in popularity.
It is already illegal to steal the grease in California, because restaurateurs do not want black marketeers on their property, and some hope to profit from its sale themselves. Others are glad to have it towed away, entering into contracts with legitimate haulers who themselves are counting on the income from selling it.
Food and Agriculture officials run a hotline – complete with a $500 reward – that citizens can call if they suspect thieves are slipping away with someone else's goo.
Selling one's own used grease is perfectly legal in the state, and many restaurants contract with haulers who take it away and earn profits when they sell it to rendering companies. What's not lawful is to steal the grease from a restaurant or another hauler.
Gordon said the Food and Agriculture Department, which has jurisdiction over the grease, is limited in its ability to enforce the law. Holden's bill, she said, would make the law easier to enforce.
Link to article – http://www.reuters.com/article/2014/01/31/usa-california-grease-idUSL2N0L42GS20140131