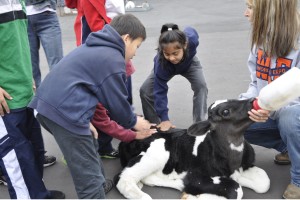 A great part of my job is the opportunity to meet Californians and talk to them about food and agriculture. We have quite a story to tell as the leading farming state in the country. Our best opportunities to spread the word are among people outside the direct Ag culture. This week, I met with two groups working in that sphere. The first, California Agriculture in the Classroom, held an outstanding event at the Cow Palace for San Francisco Farm Day. I got to meet with approximately 300 farmers and ranchers who volunteered to be part of classroom outreach to students in the San Francisco school district.  They visited 10,000 students in about 25 schools with farm animals, fresh produce, tools and other items used on the farm tohelp them tell students about growing food.  The basic goal is to teach children where their food and fiber originates. This is essential work directed at our most important constituency.
Another group working hard to educate about food is the California Women for Agriculture. In Lake County, they host a series called AgVenture, which endeavors to teach community leaders working outside of farming about the impact of agriculture in our daily lives. I was pleased to be able to meet an AgVenture group earlier today and found it to be well-informed and enthusiastic to go forth and share what has been learned with colleagues and neighbors.
I'd like to congratulate both of these terrific groups for their commitment as friends of farming and ranching.