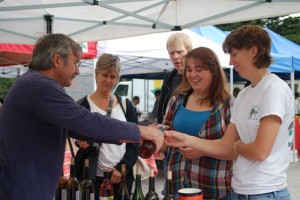 By David Siders
Californians can start sipping wine at farmers markets.
Immediately.
Gov. Jerry Brown announced Tuesday he has signed an urgency measure allowing winegrowers who bottle their own wine to conduct instructional tastings at California's numerous farmers markets. Assembly Bill 2488, by Assemblyman Marc Levine, D-San Rafael, was approved by both houses of the Legislature without dissent.
The bill expands a provision of state law allowing the sale of estate-grown wine at farmers markets. Wine industry groups said the inability to offer samples hurt sales in an industry in which customers are accustomed to a taste.
Brown, a Democrat, signed the legislation without comment. It was one of 10 bills the governor announced signing Tuesday.
The measure requires wine tasting areas to be separated from the rest of the farmers market by a rope or other barrier, and it limits tastings to three ounces per patron per day.
Proponents of the bill said it would help small wineries build their brand. Opponents, including the California Council on Alcohol Problems, opposed the measure, according to a legislative analysis.