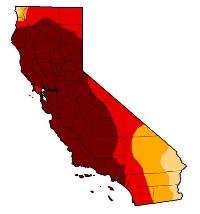 By Angela Bowman
In January, the Drought Monitor first began to report areas of exceptional drought in California. Thirty-seven weeks later, the drought continues to rage.
According to the latest Drought Monitor report, currently 58 percent of California is in exceptional drought, unchanged for the 11th consecutive week. Last week, temperatures soared to 6 to 10 degrees above normal, and dry conditions dominated.
Just how dry is it?
With the beginning of a new water year on Sept. 30, the National Weather Service in Sacramento, Calif., issued some preliminary numbers to help put the state's drought into perspective.
According to the National Weather Service, the 2014 Water Year came in as the fourth driest in terms of runoff dating back to 1906. It fell behind 1977, 1924 and 1931 respectively.
"No doubt about it, though, an above-normal Water Year is sorely needed to stave off even further depletion of surface and ground water supplies," Mark Svoboda with the National Drought Mitigation Center wrote in this week's report.
On Monday, the U.S. Energy Information Administration (EIA) issued a news release explaining the impact California's drought has had on its hydropower.
"On average, hydropower accounted for 20 percent of California's in-state generation during the first six months of each year from 2004 to 2013," the EIA explained in a report here. "During the first half of 2014, however, hydropower accounted for only 10% of California's total generation."
Looking ahead, temperatures will likely remain between 3 and 6 degrees above normal across most of the West through Oct. 14. The Climate Prediction Center's U.S. Seasonal Drought Outlook showed persist drought to dominate more than two-thirds of California through the end of the year.
Full article: "California drought in perspective" from Drovers Cattle Network