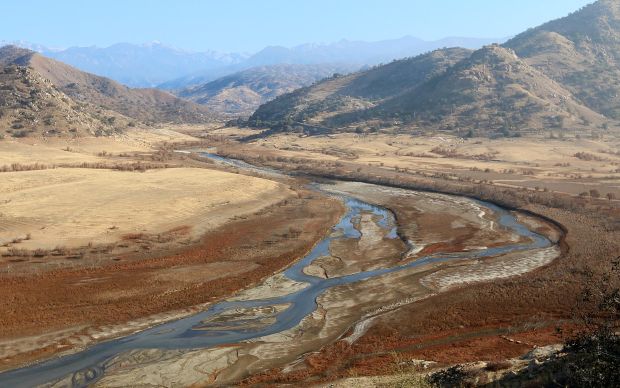 By Brian K. Sullivan
California will reach the halfway point in its rainy season this weekend. Hopes that the three-year drought will be washed away are probably already in the past.
While December brought heavy rains that put the state on pace for a normal season, there hasn't been much precipitation since then. Since Jan. 1, Sacramento and Fresno have received too little to measure.
"We've had four weeks of a very minimal amount of rain in the northern part of the state, which is where our key reservoirs lie," said Pete Fickenscher, senior hydrologist at the California Nevada River Forecast Center in Sacramento.
Now the forecast calls for a high pressure ridge to form along the West Coast, bringing sun, mild temperatures and an extended dry spell.
"They certainly have a dry forecast with that ridge," said Brian Hurley, a meteorologist with the Weather Prediction Center in College Park, Maryland. "That ridge is going to keep it dry through the weekend."
The ridge may also deflect any storms coming in off the Pacific, sending them farther north, he said.
California's drought will probably extend into a fourth year if rain doesn't fall and snow doesn't pile up in the mountains. Governor Jerry Brown declared an emergency a year ago and asked residents to cut water use by 20 percent.
The drought affects about 37 million people and 77.5 percent of California is suffering extreme drought or worse, according to the 
U.S. Drought Monitor
 in Lincoln, 
Nebraska
.
As of Jan. 21, some of the state's largest reservoirs are ahead of last year's levels, according to the California Data Exchange Center's website. Lakes Shasta and Oroville, for instance, have more water in them than they did a year ago.
While it may look optimistic, without rain to sustain them those hopes could fade. According to one measure, the Northern California Eight Station Index, the state is on track for its driest January on record, Fickenscher said.
In order to equal a normal year, California will need 25 inches of liquid equivalent, either from rain or snow, in February and March, based on U.S. Department of Agriculture estimates, said Matthew Rosencrans, a meteorologist at the Climate Prediction Center in College Park, Maryland.
"They would need records amounts of precipitation to get back to normal," Rosencrans said. "There will be one or two more storms, but I don't think it will be the year that turns the tide."
It may take years to replenish California's groundwater, Fickenscher said. As for the drought on the surface, the message since the start of the rainy season hasn't changed.
"What we really need is some concentrated rain back-to-back," Fickenscher said. "We had one good month; we need to two or three months. It's looking like it's probably not going to break out this year."