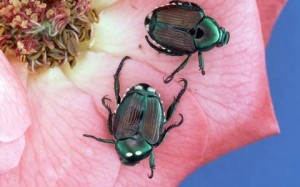 By the Sacramento Bee Editorial Board
Like so many other living things, Japanese beetles find California's climate to be ideal, and they absolutely love the food, a little too much.
These guests are unwanted, and worse, a threat. Fearing that the voracious pests will spread from backyards to valuable farm crops, the California Department of Food and Agriculture has embarked on an eradication effort in Fair Oaks and Carmichael, where the shiny green insect has been detected.
Some residents are upset, believing the department is being too intrusive, and worrying that the pesticides that kill the beetles could be detrimental to their health and that of their children and pets.
Clearly, California Ag Secretary Karen Ross would prefer not to be spraying in suburban backyards. But she and Nick Condos, chief of her plant health division, told The Sacramento Bee's editorial board that the risk of doing nothing is too great.
Seeing no reasonable alternative, the state is imposing on the owners of 41 properties in Fair Oaks and 247 in Carmichael by seeking access to their yards to spray.
We are persuaded. The beetles can make short work of backyard ornamentals. But the threat is far worse for farms. Take a look at the list of plants the bug prefers, and you can see why.
It includes plants we'd sooner do without, crabgrass and poison oak. But it also destroys virtually everything else green, from walnut trees and elms to strawberries, apples, alfalfa, plums, peaches, grapes and wisteria.
The California Office of Environmental Health Hazard Assessment is stocked with scientists who study the health implications of chemicals. Not known for pulling their punches, the scientists regularly get under industry's skin for their conclusions.
The office notes that California identifies carbaryl, the active poison in the beetle pesticide of choice, as a chemical that in high enough doses could cause cancer or reproductive harm. But, it adds, the diluted version being used in Fair Oaks and Carmichael poses "no significant health risks."
On the flip side, a beetle infestation of the sort that has occurred in Northeastern states could result in California plants and farm products being quarantined. Agriculture, a $40 billion-plus industry, already is suffering from drought. A widespread infestation would have broad implications, none of them good.
The Brown administration's decision to act aggressively to eradicate the Japanese beetle is wise. Residents may be inconvenienced. But a greater good is at stake. If state ag workers come knocking on your door, let them into your backyard, for everyone's sake.