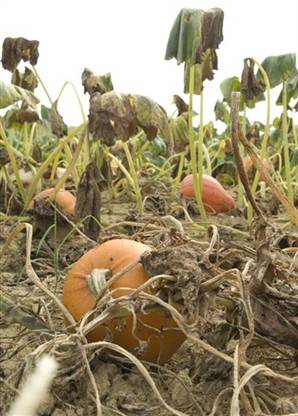 By Geoffrey Mohan
Bob Lombardi, 70, went ahead and planted two acres of baby bear pumpkins in a corner of his shut-down ranch this year, just to say he had farmed for 50 years. He hoed them every day by hand, too, the way he and his wife, Joann, did in the beginning, when they had youth, hope and water.
All three are gone, and this may be the end of Lombardi Ranch, a Santa Clarita landmark known for its lavish Halloween pumpkin patch.
Around California, drought has taken a toll on small "agritourism" farms that once thrived on the Halloween season crowd. Some have shut down, while others have stopped growing their own pumpkins or trimmed acres from their corn mazes and canceled activities that require water.
Even the hobby growers of behemoth varieties for contests say they've had a hard time keeping their half-ton gourds from cracking apart — an Oregon grower won this year's weigh-in at Half Moon Bay.
The travails haunting some of the state's small farms this Halloween come even as large-scale growers of the ornamental gourds in the San Joaquin Valley say they've had a bumper crop that is in high demand because of rain-damaged harvests in the Midwest, Texas and East Coast.
The divergent fates illustrate a paradox of California's drought: farmers with recourse to deep wells can reap a tidy profit. Those who don't might not farm again.
"We could've bought pumpkins and made a pumpkin lot," Lombardi said. "But we didn't have the water to grow all of the sunflowers and the maze — the things that make the patch. I don't want to look like the guy down the road who has just a tent and is throwing pumpkins on the ground."
The immediate source of Lombardi's fate is a convoluted dispute with the Los Angeles Department of Water and Power over releases of water behind the Bouquet Canyon dam, part of the Los Angeles Aqueduct system.
The agency drastically reduced water flow into Bouquet Creek about eight years ago, after a storm clogged the creek bed, causing floods on Bouquet Canyon Road. The agency is locked in a squabble with the U.S. Forest Service, the county Public Works Department and environmental groups over restoring the creek bed.
Without that water, and without rain, Lombardi's wells are not recharging. One is dry. The other runs at one-seventh its former strength. It would take two years of El Niño rain to recharge the wells, Lombardi said.
Elsewhere, the Corona Pumpkin Farm at CJ's Ranch in Perris has closed. The property is for sale — the result, owners say, of a 30% cutback in water due to the drought.
Webb Ranch, an organic grower in Portola, canceled its Walk on Water giant bubble attraction to conserve water.
In Merced, Bear Creek Pumpkin Patch at Fox Creek Ranch eliminated its corn maze to save water for its pumpkin crop.
Mark Cooley, a Dixon tomato farmer who also runs a you-pick pumpkin operation, Cool Patch, made hard choices about crop rotation. That forced him to cut his record-setting maze from 63 acres to 44. (Besides, he said, some people got so lost last year they dialed 911.)
Cooley's decision paid off. He had a bumper crop on the 44 acres he planted with pumpkins, even with a more miserly use of water.
Bryan Van Groningen, a co-owner of Von Groningen & Sons Inc. in Manteca, said the harvest from 1,400 acres of pumpkins has been up by about 15% to 20% from last year. He supplies his Magic Wand carving pumpkins and dozens of other varieties to several in-state food store chains.
This year, though, he has shipped as far as Texas, where rain damaged the state's own crop. The Phoenix market also was stronger because it normally is supplied from Texas and New Mexico, where yields also suffered from bad weather, he said. (As of Oct. 9, the U.S. Southwest had the highest average retail price for pumpkins: $4.34, about 50 cents higher than the Midwest or Northeast, according to the U.S. Department of Agriculture.)
"We did run into some heat in early September," Van Groningen said. "We lost some of our specialty varieties that have a delicate, thinner shell. Aside from that, we had a pretty successful year."
Nearby, in Riverbank, John Bos of Dutch Hollow Farms opted to sell some of his water allotment back to the irrigation district, skip his silage corn crop and bet hard on just 10 acres of pumpkins for his patch, across a busy road from a Best Buy mini-mall. It paid off.
"For once I gambled correctly," said Bos, who also grows tulips in spring.
Statewide, growers have gambled on crops that give them the best yield per drop, agriculture experts say. Despite the drought's estimated $1.5-billion toll on the agriculture economy last year, many of California's vegetable crops, and a few fruits, have had increased yields, according to UC Davis and the USDA. Pumpkin harvests were up 16% last year.
Meanwhile, farms with few choices have withered: the state lost about 1% to 2% of its dairy industry from 2010 to 2014, according to Lesley Butler, a dairy economist at UC Davis. And while farm revenues for vegetable crops in the San Joaquin and Sacramento regions are expected to rise by $4 million to $8 million this year, they probably will plummet by more than $100 million in Tulare County, according to UC Davis' Center for Watershed Sciences.
San Joaquin County, where Bos and Van Groningen's farms are located, is second only to the counties around Peoria, Ill., in terms of pumpkin crop value ($31 million), according to the USDA. The county harvests about 70% of the state's 5,000 to 6,000 acres annually, according to the department.
Most of the pumpkins in Illinois, however, are varieties bred for canning, not carving. That effectively gives San Joaquin bragging rights as the jack-o-lantern capital of the country.
Brenna Aegerter, a UC Davis plant pathologist who is the county's cooperative extension farm advisor, said it will be months before harvest data are available, but growers have reported a bumper crop.
"People say, how can you do that if you have a drought?" Aegerter said. "If you have enough water to irrigate only some of your acres, you're going to do pumpkins rather than a lower-value crop," Aegerter said. An acre of pumpkins requires about two acre-feet of water, fed by drip irrigation, she said. That's about half what's needed for tree nuts or "processing tomatoes" used in paste.
Lombardi once grew melons for the Los Angeles market, until prices collapsed. Pearl onions were next, until foreign competition shut out domestic growers.
He sat down with his wife and found that the farm stand was the only part of the operation making money. They pared back to 70 acres and started hosting field trips, handing out pumpkins to a couple dozen kids. In 1989, they launched the pumpkin festival, slowly adding amenities.
Now, a chain-link fence cordons off the dusty 70-acre spread where Lombardi's dad taught him to farm.
Lombardi ran his hands through a pile of uprooted pumpkin vines dried by in the sun. The leaves rustled. The only other sound was the whoosh of an occasional passing car.
"Anyway, I've been here a long time. We've done it," Lombardi said. "Hopefully, we have enough money that I can retire — or I can go out and get a job at Wal-Mart."