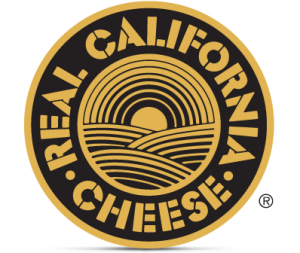 Cow's milk processors displaying the Real California Cheese and/or Milk seals brought home 22 awards from the 2017 annual cheese competition held by the American Cheese Society (ACS), July 26-29, 2017 in Denver, Colorado.
The American Cheese Society recognizes the finest cheeses and dairy products made in the Americas. A record number of 2,024 cheese and cultured dairy products were entered the competition. Cheeses made with 100 percent California milk had another strong showing this year in a field of 281 processors representing the United States, Canada and Columbia.
Cow's milk cheeses displaying the Real California seals won 6 first-place, 5 second-place and 11 third-place awards in this year's judging. Highlights from these wins include:
Point Reyes Farmstead Cheese Co., Pt. Reyes, 1st for Toma and 3rd for Baby Toma, Farmstead Cheeses/Aged 60 Days or More, 2nd for Gouda 2 Years, American Made/International Style – Dutch Style, and 3rd for Bay Blue, Blue Mold Cheeses/Blue Veined with Rind/External Coating
Central Coast Creamery, Paso Robles, 1st for Bishops Peak, American Originals/Original Recipe and 3rd for Holey Cow, American Made/International Style – Emmental-Style
Sierra Nevada Cheese Company, Willows, 1st for Graziers Grass Fed Kefir – Plain, Cultured Milk & Cream/Kefir, Drinkable Yogurt, etc. and 3rd for Graziers Grass Fed Vat Cultured Euro Style Butter – Unsalted
Oakdale Cheese & Specialties, Oakdale, 1st for Cumin Gouda, Flavored Cheeses, International Style w/Flavor Added
Rogue Creamery, Central Point, OR, 1st for Organic Caveman Blue Cheese, Blue Mold Cheeses/Blue Veined with Rind/External Coating
Peluso Cheese Company, Los Banos, 1st for Teleme, American Originals, Teleme
Marquez Brothers International, Inc., San Jose, 2nd place each for Peach Drinkable Yogurt and Prune Smoothie and 3rdplace for Strawberry Drinkable Yogurt, Yogurt & Cultured Products w/Flavors Added, and 3rd for Oaxaca, Hispanic & Portuguese Style Cheeses/Cooking Hispanic.
Rumiano Cheese Company, Crescent City, 2nd for Dry Monterey Jack and 3rd for Peppercorn Dry Jack, American Originals / Dry Jack Made from Cow's Milk, 3rdfor Organic Smoked Mozzarella, Smoked Cheeses/Italian Styles, and 3rd for Organic Salted Butter, Butters/Salted
Nicasio Valley Cheese Company, Nicasio, 2nd for San Geronimo, Washed Rind Cheeses/Raclette Style Aged > 45 Days
Karoun Dairies, Inc., Turlock, 3rd for Drinkable Kefir, Cultured Milk & Cream Products, Kefir, Drinkables, etc.
Marin French Cheese Co., Petaluma, 3rd for Petite Jalapeño, Flavored Cheeses, Soft-Ripened with Flavor Added
Rizo Lopez Foods, Inc., Modesto, 3rd for Panela, Hispanic & Portuguese Style Cheeses, Fresh/Unripened
In total, 12 cow's milk cheese and dairy producers won awards for products made with 100% Real California milk from the state's more than 1300 dairy farm families. Real California cheeses and dairy products can be found at retailers throughout the U.S., Mexico and Asia. For more information about cheese and dairy products that carry the Real California Cheese or Milk seal, visit: RealCaliforniaMilk.com. For more information on ACS competition winners, go to: cheesesociety.org.