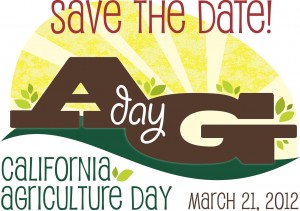 California's annual celebration of farming, Ag Day, is right around the corner. Next Wednesday, March 21, will see thousands of people on the west lawn of the State Capitol, viewing exhibits staffed by Ag groups. It's a great opportunity for farmers and ranchers to meet the Capitol community.
The origin of Ag Day was to connect farmers to state lawmakers, and that mission is still at the heart of the event. Each year, CDFA reaches out ahead of time by delivering a plant to the offices of each lawmaker, along with an invitation to attend. This week, we traversed the hallways of the Capitol yet again, providing young peach trees donated by Duarte Nursery in Hughson, Stanislaus County. We are enormously grateful for the ongoing commitment and generosity of the agriculture industry in making Ag Day a success. We couldn't do it without them.
So if you're in the area next Wednesday, stop by. We'd love to see you.