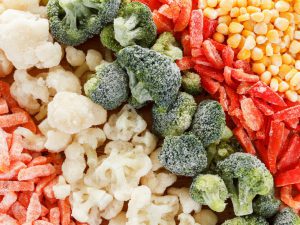 By Anne Stych
If you think frozen vegetables are only good as a makeshift ice pack, think again.
Putting those peas and carrots in your stomach instead of on your swollen knee will give you a nutritional boost almost equal to eating fresh veggies, research finds.
Although 85 percent of people say they know they should eat more vegetables, only one in 10 adults actually meet federal fruit and vegetable intake guidelines, per the Centers for Disease Control and Prevention.
But new frozen vegetable varieties are making it easier and more fun to up your veggie intake.
Cauliflower as a substitute for potatoes has been the darling of low-carb dieters for years, and a riced version of the vegetable is available in the frozen food section, right next to Green Giant's veggie tots, made with broccoli, not potatoes.
In January, Green Giant introduced frozen spiral veggie noodles, a pasta alternative made from zucchini, carrots, butternut squash, and beets, which have just 15 to 50 calories per serving.
Millennials are increasingly purchasing frozen foods, and fruits and vegetables experienced the most growth in the space in 2017 at 4 percent, and growth in the frozen food sector "is accelerating as consumers begin to see freezing as a way to preserve food with fewer negatives," according to a report from RBC Capital Markets.
Frozen foods, which have a longer shelf life than fresh, help cut back on waste, a potential savings of $1,500 a year, per NPR.
A study at the University of California – Davis tested eight fresh fruits and vegetables for flavor and nutrient content after flash-freezing half and storing the other half according to industry standards. The researchers found that good frozen produce is about equal with fresh produce.