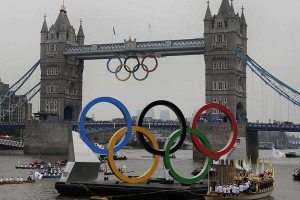 The Olympic Games are one of the greatest international stages in the world, with the best athletes coming together for feats of skill, strength and endurance. But medal winners rely on more than just ability.  A precise system of measurements, distances and timing is required to maintain the integrity of the competition. Before the games even begin, meticulous care is given to the accuracy of measurements to ensure that athletes compete on a level playing field.
Since times and distances achieved in Olympic events are compared to those of past Olympians, measurement is crucial. For example, every four years a different city and country host the games; thus, a different swimming pool and track and more must be provided each time.  The ability to consistently reproduce a pool length exactly 50 meters (not 50.01 or 49.99) or a track 400 meters long (not 400.01 or 399.99) may not appear to be significant.  However, when you consider that additional length equals extra time and that some races are won by one- thousandth of a second, it becomes clear that precise distances are a big deal.
Accurate timing is essential. Modern timing devices are much more precise than earlier models, allowing for more accurate measurements. When something goes wrong, the results can be permanent. For example, in this year's games, a faulty clock may have cost a South Korean fencer an opportunity for a medal.
The Modern Olympic Games started in 1896 in Athens.  Officials at these games relied on analog stopwatches.  At the 1912 Stockholm games, electronic stopwatches were used for the first time, but finishes were still hand-timed.  The margin of error was 0.2 seconds.  An athlete could travel a distance of two meters in this time.  In 1932, at the Los Angeles games, thirty precision chronograph stopwatches were used for each event.  The degree of accuracy was then at one-tenth of a second.  In London, in 1948, the first photo-finish camera was used and revolutionized timekeeping, and the degree of accuracy was improved to a hundredth of a second.
As exciting as the Olympic Games are, and how important accurate measurement is to their success, on a more ordinary level, precise measurement also impacts our everyday lives. The California Department of Food and Agriculture's Division of Measurement Standards is responsible for the accuracy of measurement in many routine transactions, such as shopping at the grocery store, buying gasoline at a service station, or riding in a taxi. We consider every day to be the Olympics for our system of weights and measures and the protections it provides in commerce.