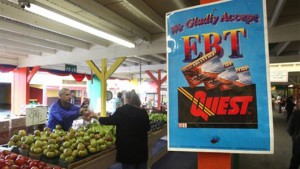 I'm one of those people who thinks every week should be Farmers Market Week, and one of the miracles of California agriculture is that it's actually possible in our state. Fresh fruits and vegetables are growing year-round someplace in California, and that provides farmers with the opportunity to bring them to market – direct to consumers.
As we recognize National Farmers Market Week (August 5-11), it's a great time to celebrate the high-quality, nutritious food brought to us by farmers and ranchers at California's 827   farmers' markets, a number that leads the nation.
California was the first state to introduce this concept when Governor Brown, then in his first term in office, signed legislation in 1977 creating certified farmers markets . Prior to that, regulations required farmers to properly pack, size and label their fresh fruits, nuts, and vegetables in standard containers to transport and sell anywhere other than the farm site. The action by Governor Brown recognized the importance of direct farmer-to-consumer sales, and these markets are now part of the fabric of many communities throughout the state.  People are more interested than ever in local food and in having relationships with the people who produce it. Farmers markets are perfectly positioned for this.
Certified farmers' markets are an important source of fresh produce to many seniors and low-income families who can purchase fruits and vegetables through the Senior Farmers' Market Nutrition Program; the Women, Infants and Children's (WIC) Supplemental Nutrition Program; and the CalFresh program.   Over the years, farmers' markets have evolved to offer a diverse array of farm products to include meat and fish products, cheeses, olive oil, wine, flowers and more!
So it's true – every week is Farmers Market Week. Please try to visit one soon and see its splendors for yourself.