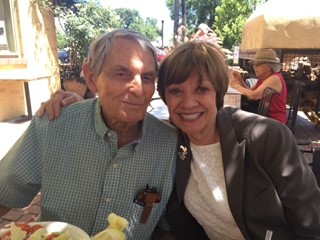 Yesterday we learned the sad news of the passing of Yolo County farmer and agricultural leader Richard Rominger. Rich was a passionate advocate for California agriculture, farmland conservation, and environmental stewardship. He served on countless boards in leadership positions throughout his long and distinguished farming and public service career. Governor Jerry Brown appointed Rich to lead the California Department of Food and Agriculture in 1977, a position he held until 1982. He was appointed by President Bill Clinton in 1993 as the Deputy Secretary of the United States Department of Agriculture, serving until 2001.
I met Rich and his beautiful and spunky wife of 69 years, Evelyne, shortly after moving to California and joining the Agricultural Council of California in 1989. He quickly became a friend and a mentor. He was one of the most honest, trustworthy, kindest people I know. His counsel was invaluable, and his commitment to public service inspiring. He made California agriculture better by the countless lives he touched.
He was a role model of grace and humility and effectiveness. How grateful I am to have known and worked with Rich. He has been a gentle giant in my life – not for his physical stature but for his legacy of service with integrity, his passion for agriculture, and most of all his love for Evelyne and pride in his family. My deepest sympathy to Evelyne and the Rominger family. We have lost a dear friend. May God bless Rich Rominger.
---
CDFA profiled Rominger and his family farming operation in this video from its Growing California series.