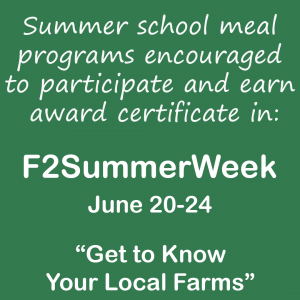 The California Department of Food and Agriculture (CDFA) encourages summer school meal programs to "Get to Know Your Local Farms" during Farm to Summer Week June 20-24.
The Teach, Taste and Connect elements of F2Summer Week include celebrating local foods on the summer menu, offering a taste-test in student meals and providing opportunities for children to experience agricultural-based education activities. California Department of Education (CDE) ideas for celebrating F2Summer Week include providing an agricultural or nutrition education lesson, watching a virtual farm tour or an activity led by community partners such as a farmer, master gardener, parent volunteer or local health department staff.
Summer school meal programs receiving U.S. Department of Agriculture funding are further encouraged to participate in F2Summer Celebration Week. The theme for F2Summer Week 2022 is "Get to Know Your Local Farms." Click here for more information.